The Ultimate Nesting Checklist to Prepare your Home Before Baby Arrives
Looking to follow a focused list for your pre-baby nesting stage? I gotchu with this ultimate nesting checklist! There's nothing better than crossing things off the to-do list, so let's get to it!
Before I was pregnant, I thought how silly it sounded for it to be so universal to want to "nest" during the time leading up to a baby.
Sure, there would be things I wanted to get done, but how many things could that really be?
What could possibly even be on a nesting checklist?
Fast forward to my second trimester (when I finally gained some energy) and I was a nesting machine.
I had a very specific set of tasks (*ahem* my nesting checklist) that I was compelled to complete by the powers of baby.
And let me tell you, I got. ish. done!
I tore through so many spaces I had been ignoring for years and now that I am on the other side of this pregnancy, it was time well spent.
So, in the spirit of sharing, here is my ultimate, home-specific, nesting checklist to help you prepare your home before your baby arrives.
Disclaimer: This post does include affiliate links for your convenience. This is at NO additional cost to you but earns me a small commission. To read more, check out our disclosure policy. As an Amazon associate, I earn from qualifying purchases.
1. Declutter & Organize All the Things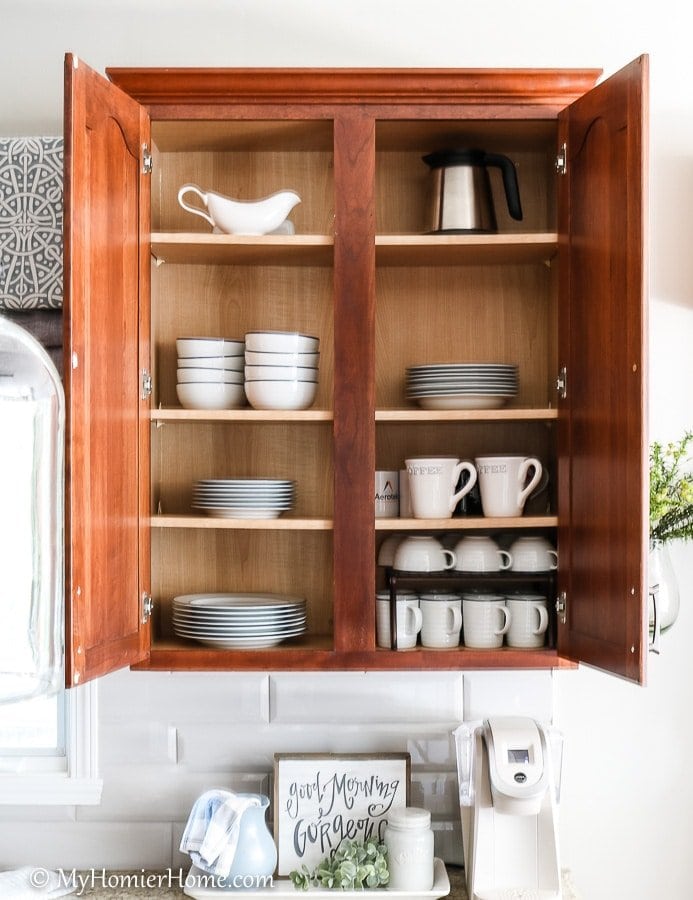 CLOSETS
When it comes to clutter and dysfunction, most of my issues show up in various closets.
I tend to shove things wherever in closets because it is not a common place for other people to access, so I hide it away to deal with later.

Well, welcome to later! Now's the time… the amount of stuff for baby that is going to enter your home is going to be overwhelming.
I couldn't get over how much stuff we accumulated in so little time pre-baby. Items like diapers, wipes, clothes, toys, other random baby gear, and more.
It's insane that one tiny person could/would need so much stuff, but they do.
Focusing on the closets will help you make room for baby and get rid of all the crap you for sure don't need that's been hiding in those closets for God only knows how long.
Below is the list of the closets I tackled with links to my specific posts on my tips for decluttering and organizing the individual spaces.
Cabinets & Drawers
As I was working my way through the house, the areas that were bothering me most, aside from closet spaces were cabinets, specifically cabinets we use most often.
This included kitchen cabinets, bathroom/under the sink cabinets, my desk drawers, and our medicine cabinet.
For the kitchen and bathroom cabinets, I wanted to focus on functionality, decluttering, and making room for baby stuff.
For our guest bathroom, I emptied the entire space under the sinks and either got rid of it completely, moved it to a better location, or made room for it in the linen closet.
This way, when all the bath time and toys made their way in, I would have a place for them.
For the kitchen cabinets, my goal was to have at least one set of cabinets completely unused and designated for baby.
The purging process was intense, but it was worth it because I now have a designated spot for all the random miscellaneous bibs, utensils, cups, and dishes.
I also worked through making each cabinet house items that made sense.
For instance, I made sure the cups, plates, and bowls were near the kitchen table and near the dishwasher since we use those items most often.
I also made sure the coffee mugs stayed in a place close to the coffee maker.
Below is the list of cabinets and drawers I made sure to hit before baby with some links to more specific tips.
Under the Kitchen Sink
Medicine Cabinet
Desk Drawers
Pantry
The dreaded pantry… This tiny little beast is always been my Achilles heel, but it's one of the spaces that needs to be purged and organized at least once a year.
When you are in the nesting phase of pregnancy, follow my tips to pantry organization.
But before you do, be sure to stock up on as many gotta-have-them snacks as you can.
A full pantry of goodness waiting for you when you get home from the hospital with your little babe is priceless.
Fridge
Another great space to clear the heck out is the dang fridge.
Purge anything expired or any items you for sure aren't going to eat or want around post-baby.
I did the same thing with the freezer.
We had so many really weird items in the freezer that I was certain we were never going to eat.
If you feel bad throwing this stuff away, consider donating it to a non-picky family member or otherwise.
But, whatever you do, be honest with yourself and purge it if you know in your heart it's no longer part of the meal plan.
Be sure to also make yourself a list of things you threw out that were expired that you want to have on hand. I threw away a bunch of condiments that my husband went to look for later, but they were purged. Restock the essentials if needed.
Kitchen Desk or Command Center
We had a catch-all kitchen desk area that had no functionality what so ever.
Mail would pile up and other nonsense to the point that I had no idea what was even there any more.
Since we don't have another place for a designated command center, this was one of the areas I purged and organized.
You can check out my kitchen desk organization here.
Storage Spaces
The last decluttering/organizing task I tackled was the storage spaces.
This wasn't super high on the priority list, but when I started to look at what I was housing, it became a must purge zone.
I had been saving some decor that I thought I might use in the baby's room, but after finishing the nursery, I didn't end up using it, so to the donate zone they went.
At a time when we are adding a lot of new items to the mix, it feels really good to know there is a space to house some of the "for later" items, such as toddler bed rails and full-size bed rails for the convertible crib, the highchair she wouldn't be using for awhile.
And also the clothes she either wasn't ready for or would grow out of quickly.
Take the time to see what is in there and part with the items that no longer make sense to hold on to.
MISCELLANEOUS SPACES
These spaces may not be all encompassing for your house, so as you work your way through the checklist, consider any other pain-point areas you know are going to make life harder if they don't get tackled before baby.
Some additional questions to keep in mind as you consider additional spaces to declutter and organize are:
Do you have a place for toys/baby items in your main living area?

Now might be the time to think about a good organizer you could introduce to this space.

Do you have a designated spot for kid books?
Where will you house the overflow of diapers and wipes?

My husband had a diaper party, so we had a ton of varying sized diapers we needed to store for later. We ended up using our guest closet, but this is something to consider while your brain isn't all mush after baby.
2. Get the purged Items Out of Your House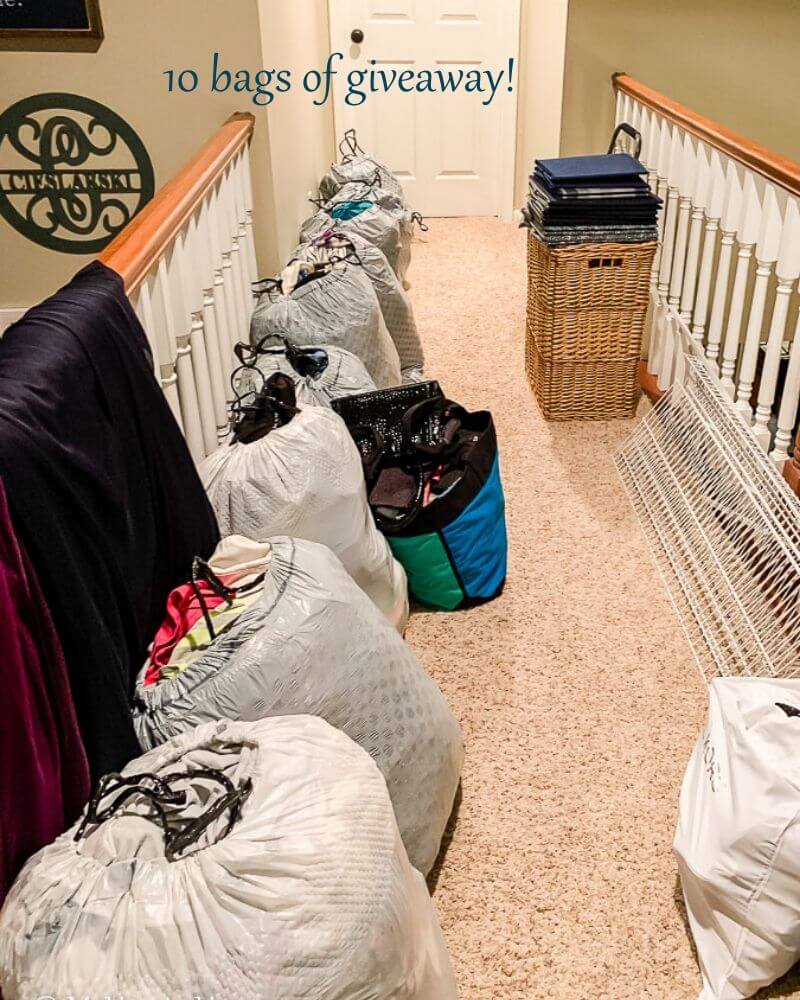 I put this as its own checklist item because getting the motivation to move all the stuff I purged into the car and out of the house was daunting in my stage of pregnancy.
However, I would highly encourage you to make a trip to Goodwill or other donation center a high priority as soon as you are done purging each area.
There is nothing worse than walking out of your bedroom and seeing the load of crap you need to remove after already removing it from another area… trust me.
Remove it quickly.
3. Clean All the Things
Get carpets Cleaned
Now that you have decluttered and organized all the things, it's time to get to cleanin'.
Since our fur baby sheds all over the place, one of my top priorities was to get the carpets cleaned.
I haven't ever experienced a carpet cleaning service before this, but man oh man, it was so worth it.
Knowing that any lingering allergens and dust are sucked out of the carpets made me sleep so much easier.
Deep Clean or Hire a Cleaning Service
As for the rest of the house, if you are a diligent home cleaner, you will probably already have your home in order.
However, for the rest of us who let that deep cleaning *ish go way longer than it should, consider a one-time cleaning service to come out and deep clean towards the end of your third trimester.
I like to think of this as a great pro tip because I was never happier than to watch someone else make my home sparkle without lifting a finger – especially when I was over literally everything.
Deep Clean the Car
Last but not least, be sure to clean out your car.
I realized this is not part of your house, but it is a place your baby will be spending time in.
You will feel much better to have a clean slate before carting the babe all over town.
4. Knock Out the Not-So-Glamorous House Tasks
There are always some of those not so rewarding tasks that just need to be done, so here is my list of items you should knock out before baby:
Change air filters in the furnace and purifiers
Add salt to water softener
Change batteries in smoke detectors and carbon monoxide detectors
Add child locks to inside of all chemical housing cabinets (laundry room, under sink, bathroom areas)
Add security (ring doorbell/cameras)
Stock up on paper goods

Toilet paper, paper towels, paper plates, etc.
5. Keep Up with the Laundry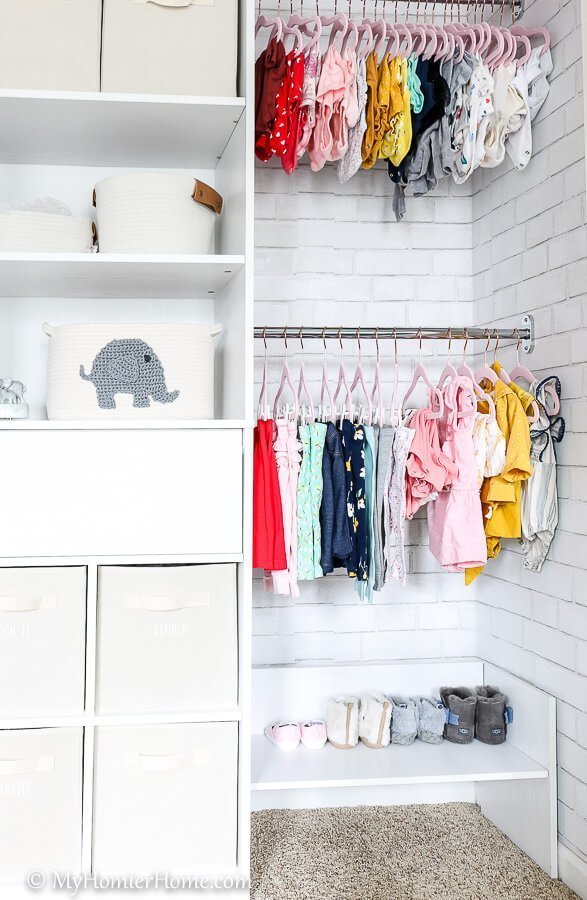 Once you get into that 34 week mark or later or the time past your baby shower, it's time to think about the laundry.
Personally, I hate laundry.
Worst job ever… okay maybe not that bad, but you feel me.
As part of your nesting checklist, the last thing you want to worry about is no one having anything to wear. In the last month of my pregnancy, I made a vow to keep up with the weekly laundry for myself and for the hubby.
In addition to our normal laundry, I wanted to make sure to have a few key items available for baby.
A couple things to keep in mind.
Your baby may not fit in newborn clothes when they are born or only for a short amount of time

Because of this, I would recommend leaving the tags on most of the newborn items (minus a few onesies and pairs of pajamas) and then dealing with washing only that stuff if your baby small enough to wear this size for awhile

Wash the 0-3 month pajamas and onesies for sure, probably about 5-7 of each
The problem with laundering too many outfits is if they don't wear them, most baby stores will allow you to return those items, but only if they have the tags on them.
I would just be advised that you or the hubs will be having to do some kind of laundry for baby in the weeks after baby arrives… and eventually your own, but at least you'll be caught with most of that if you keep up with it ahead of time.
6. Complete the Nursery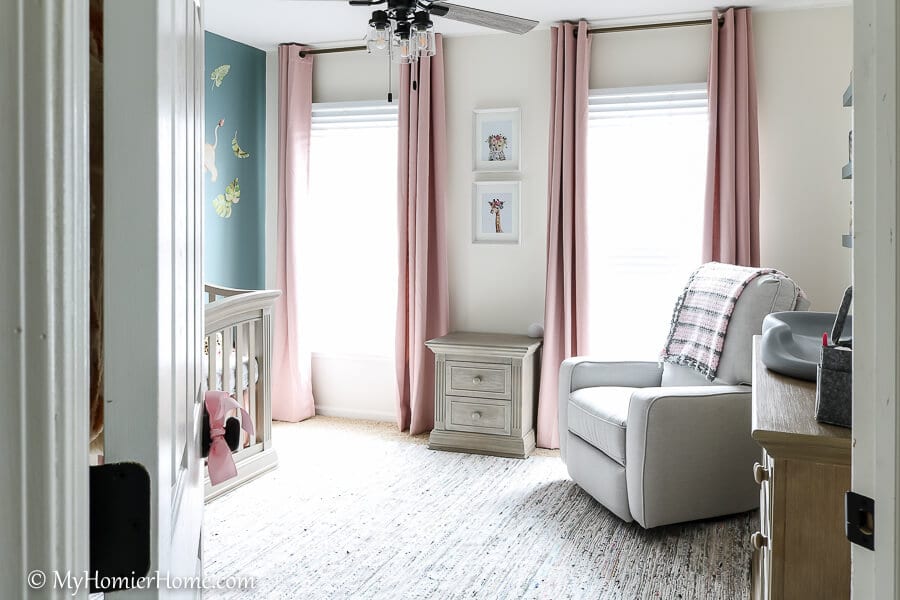 Completing the nursery was a project for me for sure.
I did extensive research to decide what colors work well with new babies and what items should be housed in the nursery among other things.
My steps and links to all my personal research are listed below.
Buy nursery furniture
Decorate the nursery
Create organizational systems
Organize baby stuff from shower
Make stations for non-nursery areas

Diaper stations
Pumping/Nursing stations
7. Complete All Miscellaneous Tasks you Can Before Baby Arrives (Home-Related or Not)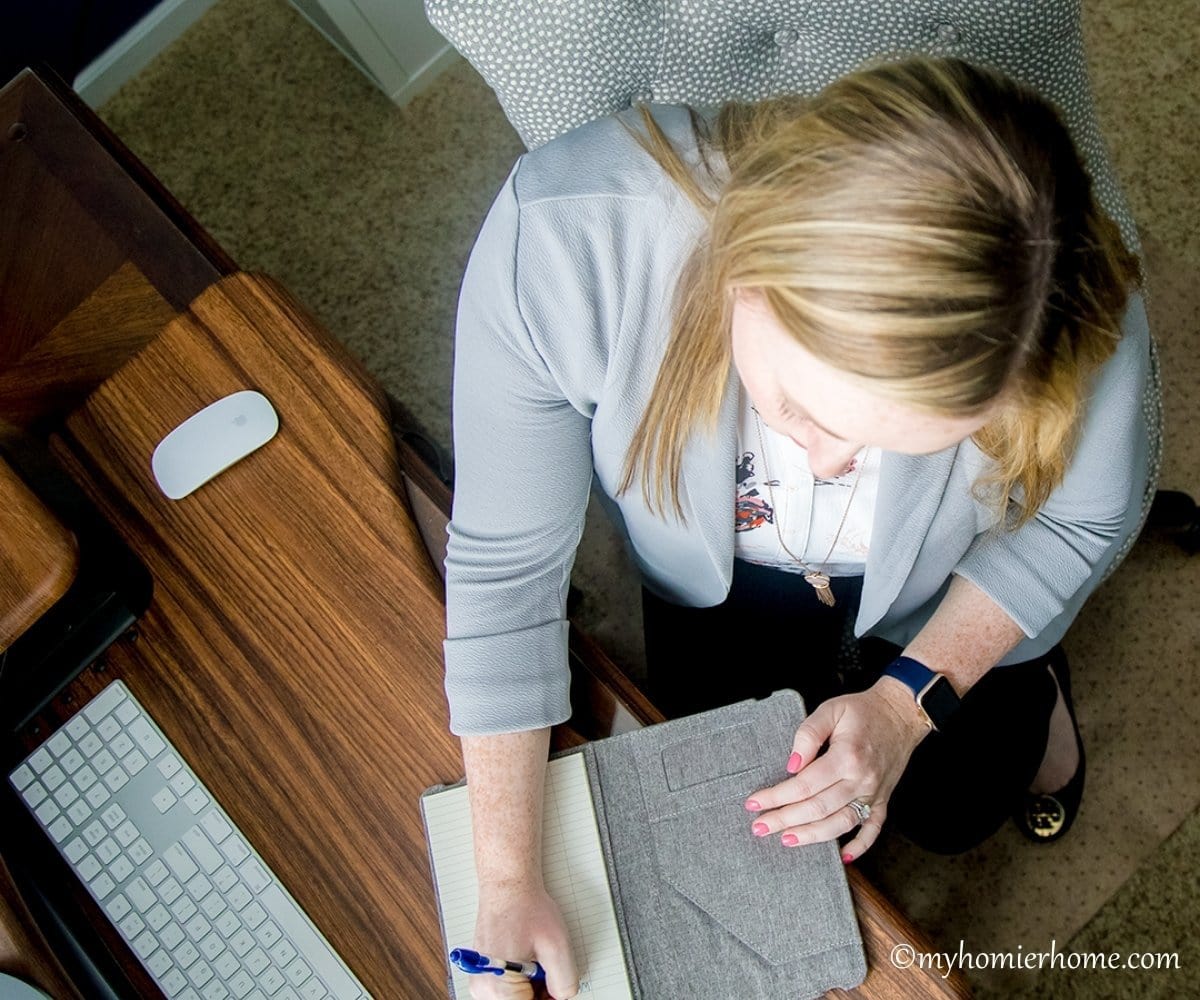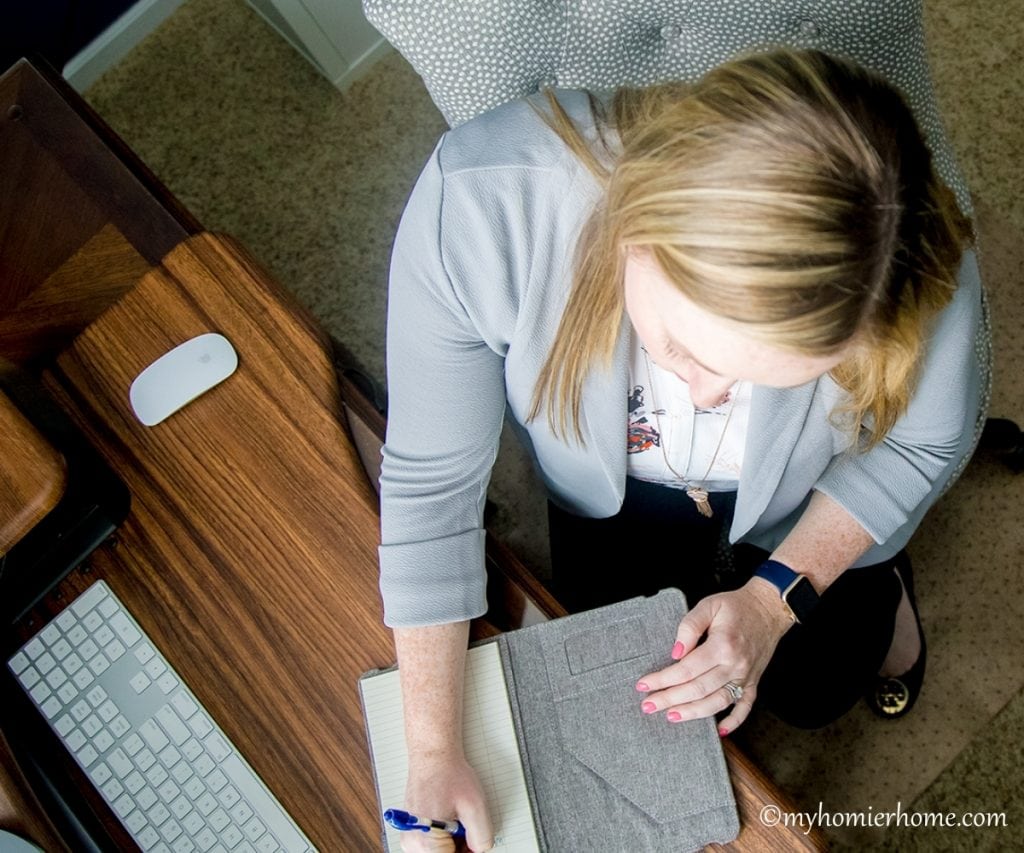 There will always be more miscellaneous items, so this is not at all a comprehensive list, but these are all the things that came up for us as we neared the due date.
Since baby girl was due at the beginning of April, we have "complete our taxes" on our list.
Take some time to think about all the things you don't want to forget to do in the first couple months of baby's arrival and get them done now if you can.
Finish our Taxes
Pay any once a year bills that are due soon, either on auto pay or pay ahead, or at least make a plan.
Get maternity photos
Put high chair together
Put pack n play together
Put any other baby items together that you can
Get car seat checked at the local firehouse (our hospital gave us a list of who to contact)
Pack your diaper bag
Pack hospital bag

I packed my own bag, the hubs packed a dad bag, and then I had a small bag for baby

Create postpartum care baskets for each bathroom
Get a mani/pedi
Boil baby basics (bottle supplies, breast pump parts, and pacifiers) so they are ready to use when you come home from the hospital
Buy nursing/pumping bras and tanks
Line up some good books to read, both baby-related and not

I use my Kindle app so I always have them available

Download some helpful baby apps/courses
Review this nesting checklist

This list is very thorough list for all the other little items you may not have thought about.
And there you have it! It may seem like a lot, but it will all be worth it when your only worry is taking care of your new baby and hoping to get an ounce of sleep.
Use the energy you have from your second/early third trimester and knock this list out.
You got this!
[UPDATE: Check out our 6-month nursery review on how all of this went!]