9 Tips for Linen Closet Organization & Decluttering | Quick Wins Series
Things falling on you when you open your linen closet? Wondering what this stuff even is? Take back your closet by following my tips to get organized!
Welcome back to the 'Quick Wins' Series. If you are just joining, be sure to check out my tips on organizing and decluttering any space as well as my tips for kitchen desk organization.
I have been taking full advantage of these quick wins to move and groove through my nesting checklist before baby girl Ciz arrives.
I have so much more to share in this series, but I wanted to focus on the linen closet organization today.
The linen closet is one of those spaces you use often enough, but maybe not so much that you have stopped to analyze its function.
Our linen closet resides in the guest bathroom, so unless I need to change our bedding or put away towels, I don't go over there that often.
However, with the baby arriving soon, this closet is going to not only function as a linen closet, but also a place for baby bathroom items and serve as the guest linen closet, too.
It was hard to get the right angle to capture these before photos, but as you can see below, I was amazed at how little I knew about what was being housed in this closet and never realized how haphazard it was thrown in.
So, with full charge, I went to town taking everything out, which leads me to my tips for linen closet organization.
Before photos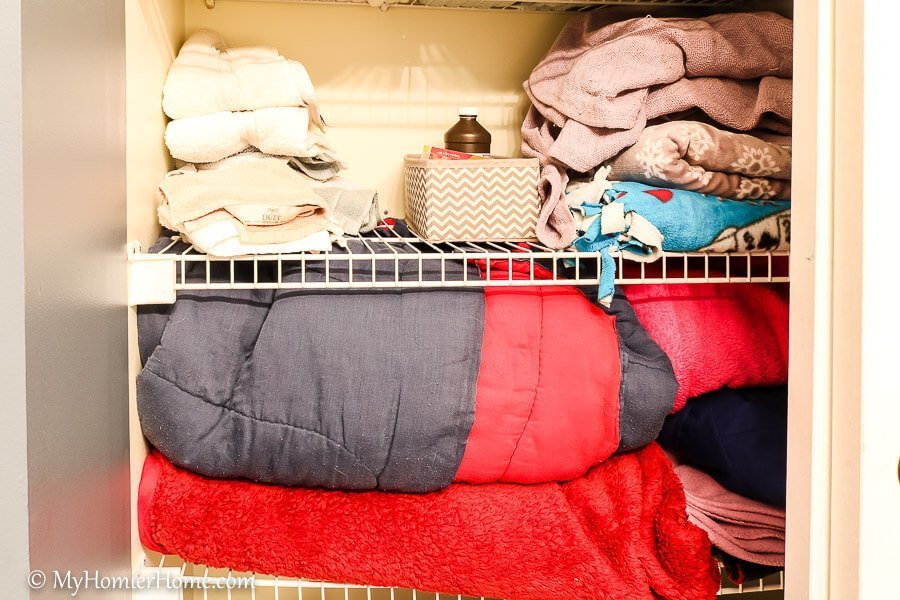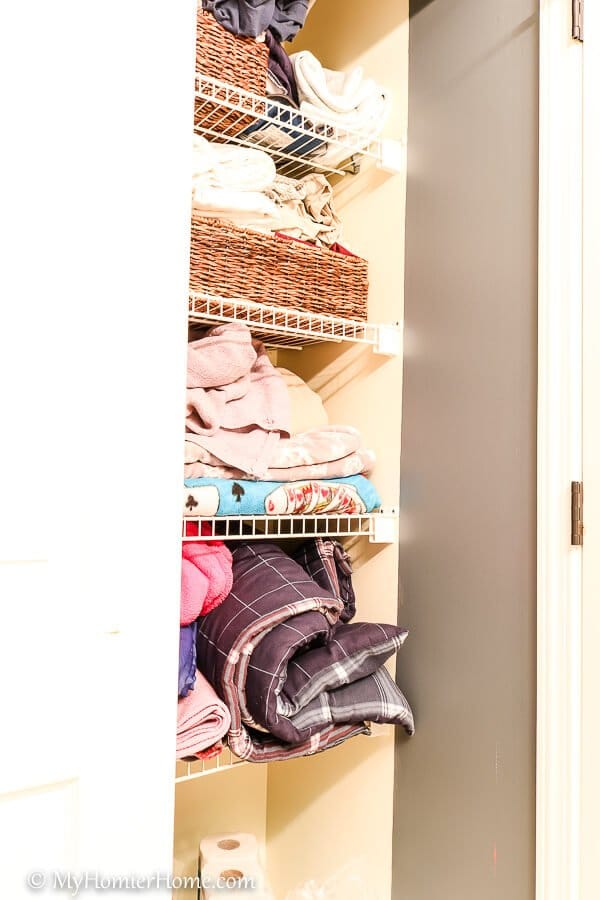 Tip 1: Decide what needs to be in this closet.
Look at all the nonsense shoved into this closet in the before photos above!
So ridiculous!
The bottom shelf is revolting because of all the weird blankets stuffed in there.
As I was emptying this closet out, I started to find things I didn't even know we still had, including super old blankets and sheets we haven't used in years.
I also found way more sheet sets for our king bed than I even knew we had.
In deciding what should or should not go back in this closet, I separated items to give away, items that should go with other similar items I had elsewhere, like our outdoor blanket and beach towels, and piles of items I knew I wanted to keep in this closet, such as bedding, pillow cases, towels, and spare guest toiletries.
I also needed to make sure I left room for any bathroom specific baby items, such as her little bath tub.
As far as the blankets and spare pillows I found in another closet, I didn't want these to take up all the space, so I set them aside to figure out a better place for them.
Tip 2: Sort your linens and toiletries.
As I took stuff out, it was helpful to make immediate piles, but within those piles, I sorted types of towels by size and color as well as useful versus non-useful toiletries to keep in here.
Luckily, all of our towels were either white or blue, so I didn't have to worry about what to do with any mismatched ones, but if you have a variety of colors and are looking for the quick win, sort them using good ole' ROYGBIV.
After looking at the sorted piles, i could see that I had regular-sized towels, wash cloths, and hand towels.
Getting an idea of what kind of towels need to be organized and put back helped know what kind of organizers I was going to need or have to use.
Tip 3: Keep most used items at eye level or lower.
Because I knew the towels were staying, I chose the shelf that allowed me to grab-n-go, which is the shelf that is in between eye and arm level for me.
Making sure the items you use most are easily accessible will make your life much easier in the long run. Keep it simple… quick win.
Tip 4: Use space saver bags to make more space.
Disclaimer: This post does include affiliate links for your convenience. This is at NO additional cost to you but earns me a small commission. To read more, check out our disclosure policy.
For all those extra blankets I had, some I gave away, but others I wanted to keep for if we have guests that need to sleep on a couch or elsewhere in our home.
Since this doesn't happen too often, I ordered some space saver bags to condense some of these big guys.
These worked like a charm!
I even used them to store my winter pillows and blanket decor.
These items, since not used very often, will end up going in our guest bedroom closet rather than the linen closet to free up more space.
This is also where I decided to house our extra pillows for the same reason.
I thought maybe I should keep pillow cases with pillows, but this setup worked way better and the rooms are right next to each other, so I'm hoping it won't be an issue.
Tip 5: Store sheet sets in their pillow case.
I found so many spare pillow cases that didn't go with a sheet set, so I set them aside for their own bin.
However, the sheet sets that we had for our master bedroom I was able to fold nicely and slip them into one of the pillow cases to keep everything together.
These sets are now easy to grab when I need to change the full set.
Now, just like that commercial said about fitted sheets… "This is impossible! There are no corners!" is very true.
So, I definitely had to look up how to do this on the ole' YouTube to make sure everything was able to fit together in the pillow case.
You can find how I learned to fold a fitted sheet through the link here.
The guy was a great teacher and will show you exactly how to make those non-existent corners.
And, just so you don't feel bad, mine were not as perfect as his, but it did the job nonetheless.
Tip 6: Use bins and boxes to separate items.
Having specific bins or boxes for the various similar-type items will help keep everything organized as you start to use the closet again.
I found these wicker bins at the At Home store a while back for a great price, but these are similar ones.
I like that they have a lower profile, so they worked great for housing my spare pillow cases as well as the non-king-sized sheets for the guest rooms.
For the quick win, try to use what you have.
If you don't have something that works, make sure you get what you need in the next day or two to make sure you finish what you started.
Tip 7: Label your linens.
As we all know, labels are an organizers favorite items, but the bigger reason to label is so that everyone else who is using the closet knows what you did.
Hopefully, they then will be able to keep it as organized as you leave it.
For the quick win, no need to buy special labels if you're not ready for that, but definitely try to get some thing to mark any bins that you cannot see what's inside.
Tip 8: Line your shelves.
I absolutely hate the wire shelving that is in every closet of my home.
I'm glad that there are shelves, but man they are not ideal.
Lining the shelves helps make sure things don't fall through the cracks and that anything resting on the shelf doesn't get a bunch of weird wire markings.
Here are shelf liners I used.
Tip #9: Fold your towels appropriately.
Who doesn't love pretty folded towels, right?
My mom showed me a great way to fold towels back when I was a youngin' and it does make you just feel great when you open a closet with well folded towels.
Here is how I like to fold them…
How to Fold the Perfect Towel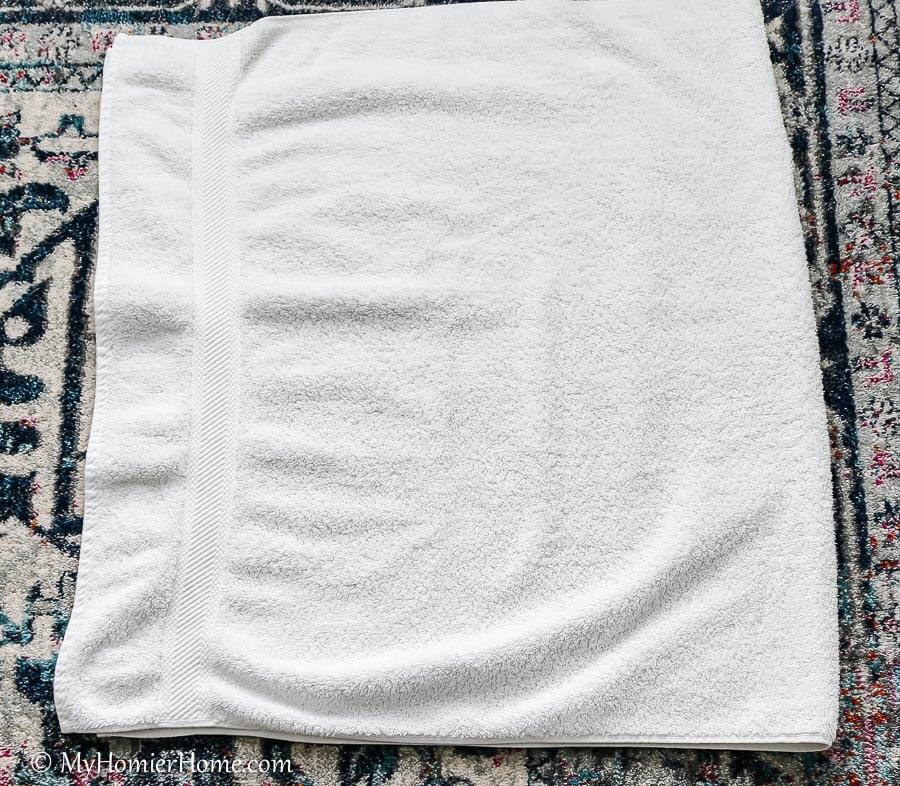 1. Fold the towel hamburger style.
2. Fold it one more time the same way.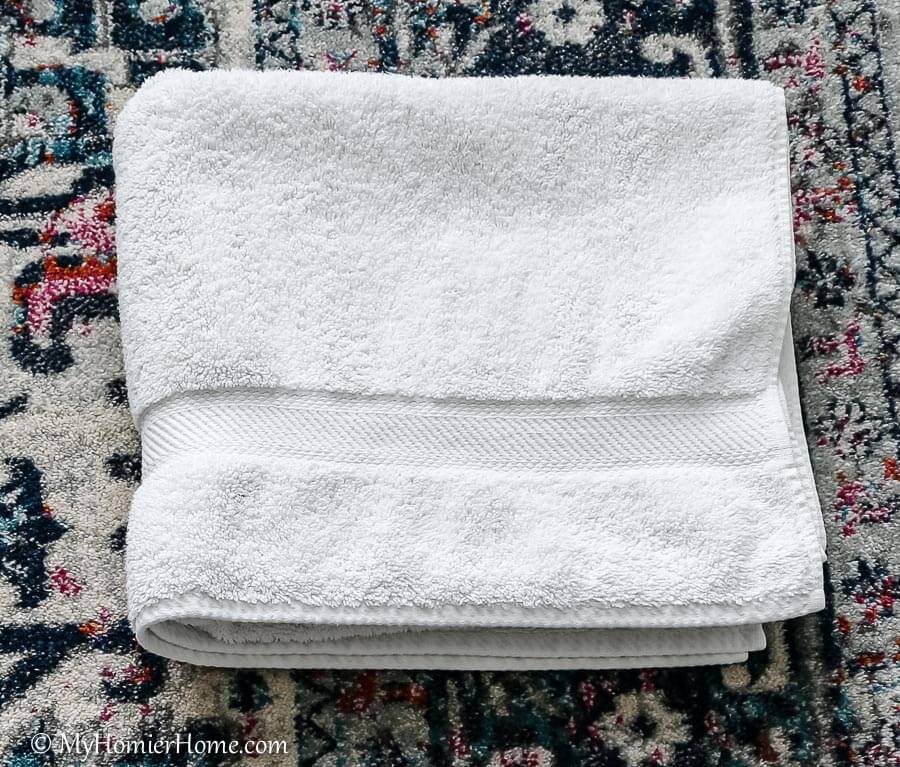 3. Fold once the other way and viola!
Your linen closet should not be a source of pain and annoyance, so go for the quick win and get it organized and decluttered today!
I can't wait to hear how it goes. Drop a comment below when you get.it.done!