Tips for Kitchen Desk Organization & Decluttering | Quick Wins Series
Working with a messy kitchen desk? These tips for kitchen desk organization will get from clutter to chaos-free organization for the quick win!
Welcome back to week two of my 'Quick Wins' Series.
If you missed week one, check out my 11 tips for organizing and decluttering any space.
This week, is all about the kitchen desk, or should we say, the catch-all.
Our kitchen desk has been used for collecting, bills, coupons, work bags, receipts, overnight guest's purses, a drink stating at parties, and the list goes on.
After our month of hosting something every weekend, I'm uber-focused on getting this area to function for our every day lives.
As I was following my checklist from last week, I noticed there were some specific-to-the-kitchen-desk steps that made this quick-win project go much smoothly.
So today, I'm sharing with you my tips for kitchen desk organization and decluttering…
1. Define the purpose of the desk.
First thing I found helpful was to consider what I want the purpose of the desk to be as well as what function it has served for us up until this point.
For me, the purpose of this desk is to keep all the daily mail and quick-grab items easily accessible, including our charging station, bills and receipts, but also in a proper place to not run rampant over the desk.
I also want the desk to stay mostly clear to allow for a place to write quick notes and/or a place for my husband to set up his laptop and work if necessary.
For the cabinets above the desk, I want to have an easily accessible medicine cabinet as well as a place to house all the kitchen-specific baby items that I know are about to start accumulating, such as formula, baby food, utensils, etc.
Currently, two of these cabinets are housing wine and bourbon glasses until I make my way to the dining room organization, which I'm hoping gets done before baby arrives, and the drawers are shmattering of nonsense as you can see in the before photos below…
Before Photos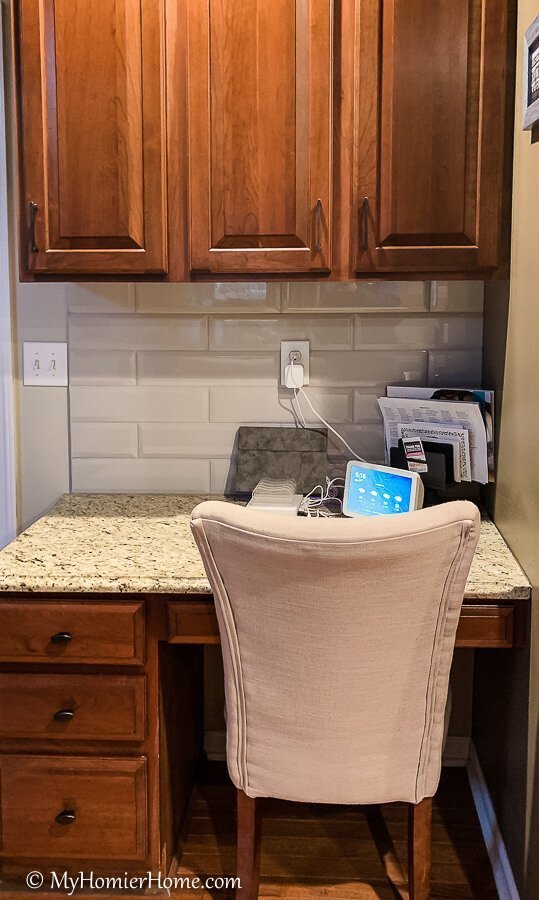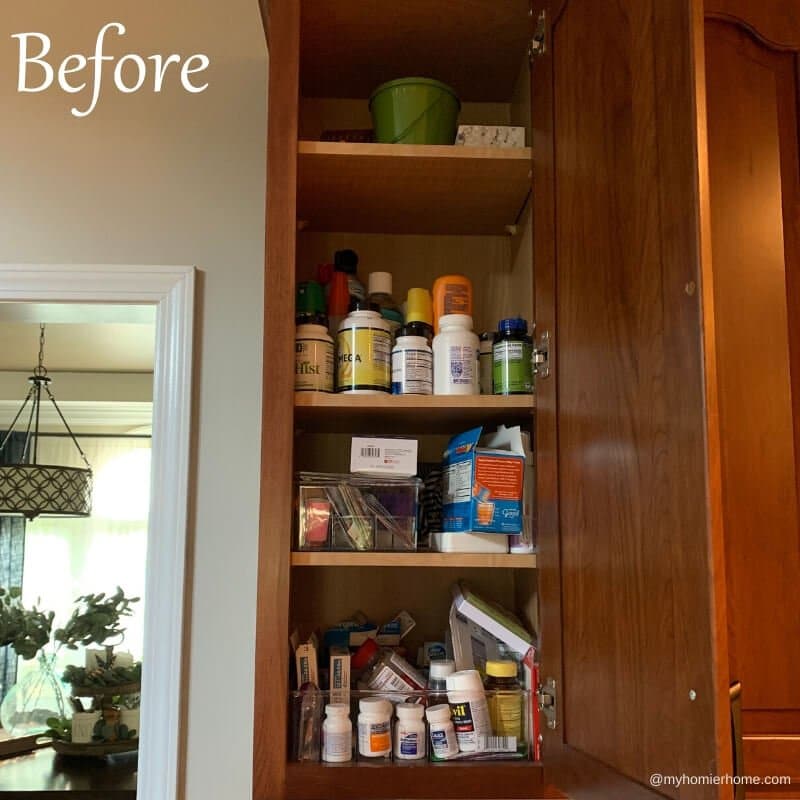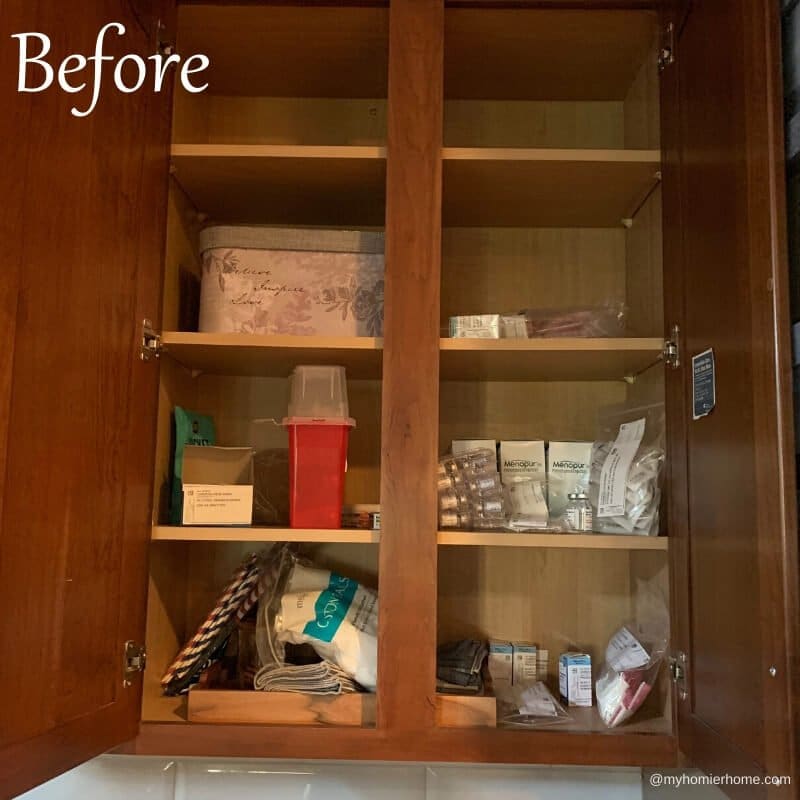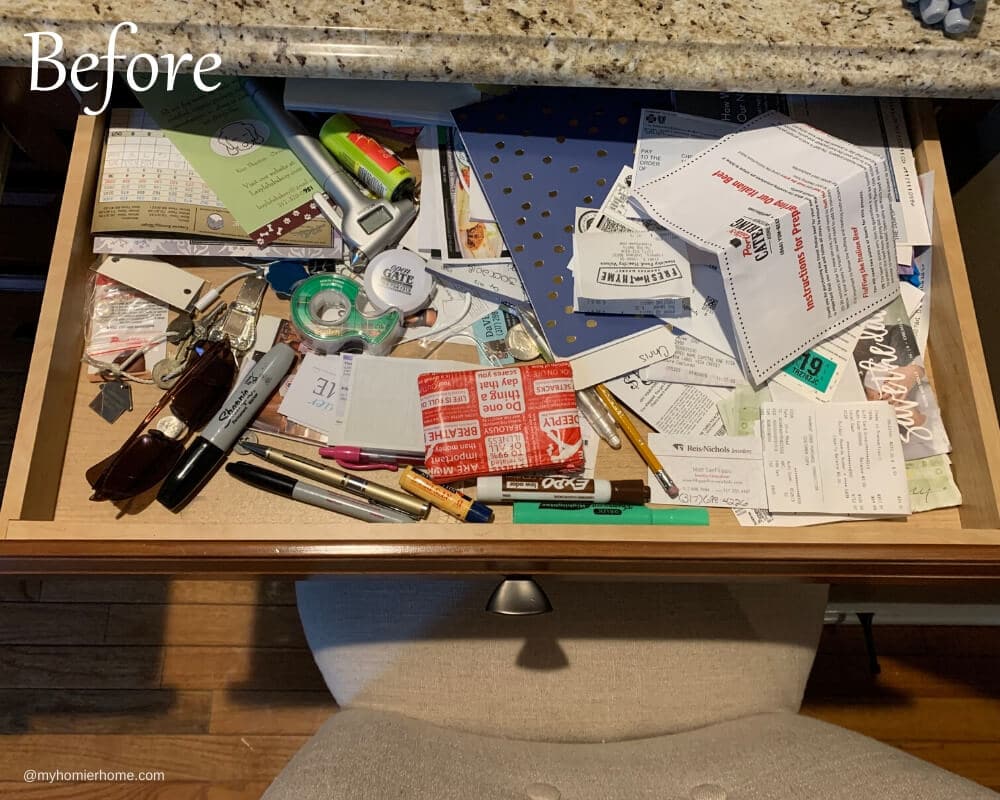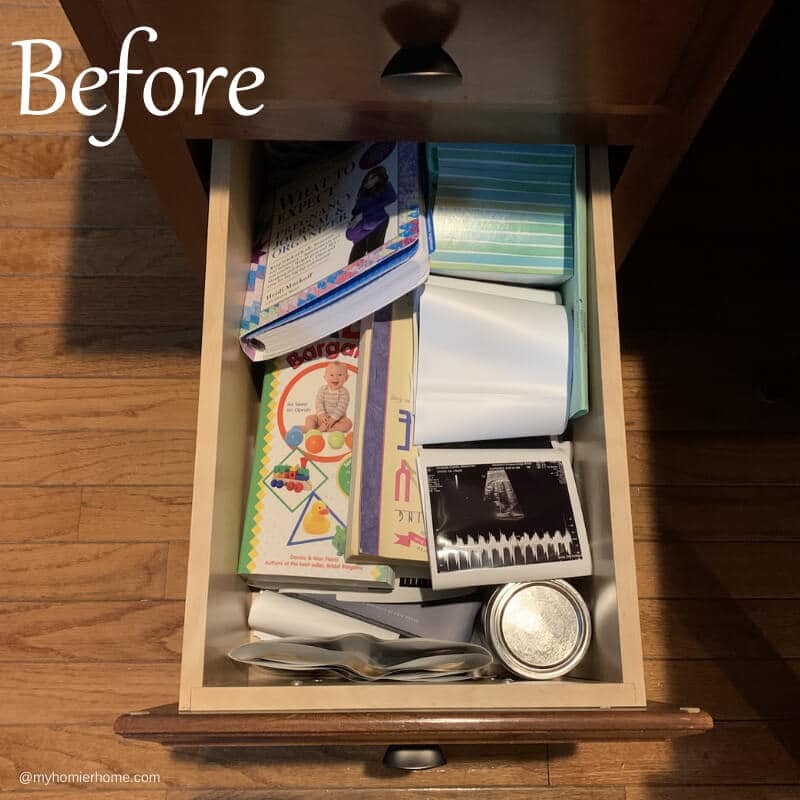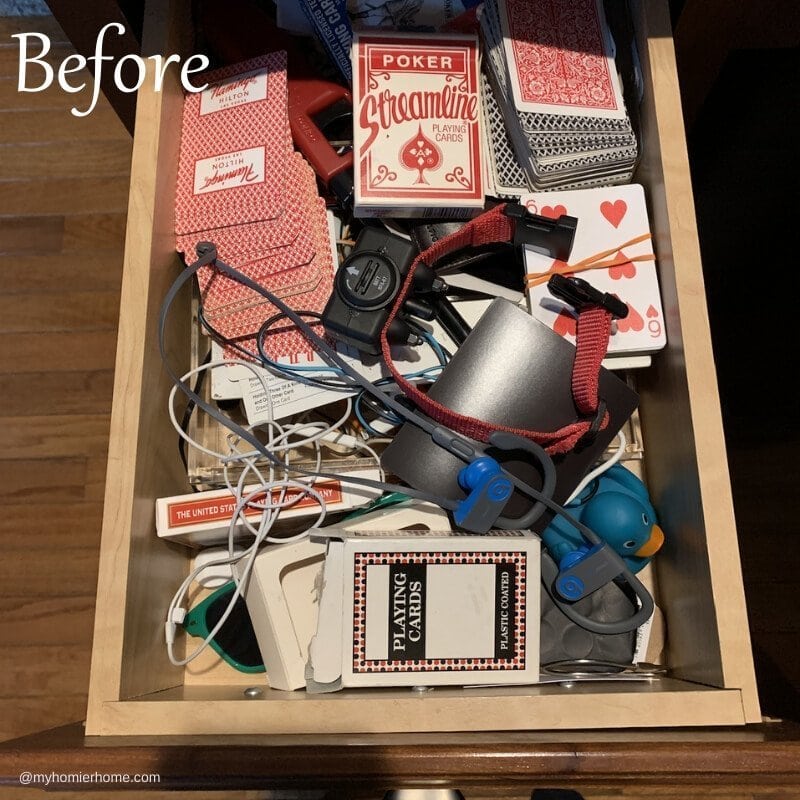 We do play a lot of cards, specifically euchre and marble chase, on the weekends, so having these items accessible as well as a spot for my husband's headphones will be crucial to the clutter-free work station I'm trying to create.
As my husband says, if it's easy to see its place, he will happily abide by the organization.
2. Identify the problem areas.
Once you've determined the purpose of this area, it's time to get that notepad out and identify the problem areas.
What is collecting that doesn't have a specific place?
What do you want to be able to do in this space (reference the purpose above) that you currently cannot do?
Be realistic with yourself.
This area is usually not a very big space, so try not to give it too many jobs.
Referencing my main purpose, I definitely need this space to function as a mail organizing space, have the desk be majority cleared in its natural state, and allow us to grab items quickly that are needed day over day.
One of my problem areas included no real place for mail to be sorted into things I needed to do and things my husband needed to do without them being laid flat on the desk.
I tried a mail divider, but I could never figure out what needed to be done versus what was just coupons or things we want to keep out in the open.
Another problem area was trying to find a deck of cards in its entirety or a paper and pen that worked.
The drawers were getting so overloaded that there was no where to even put things back once you pulled them out.
Identifying the problem areas is a good way to make sure you tackle them when you put the space back together.
And remember, we are going for a quick-win here, so it may not be perfect forever, but at the very least you can take into account what hasn't worked in the past and address it now.
3. Focus on the purge.
Back when I was a kid, we always had a junk drawer.
It always had an insane amount of nonsense that accumulated until it could barely close.
In my own home, I have no desire to have a junk drawer, but I do understand that there are some things that just don't fit in a nice little area.
My solution for these items is two-fold: one, if it's weird and we have not used it in months, years, or since we've moved in, purge, purge, and purge these items.
Purging could be donating to Good Will or putting it straight in the trash.
I ended up with an entire grocery bag filled with nonsense that had no business being housed in my house.
It was liberating to get rid of these weirdo items I was holding on to for literally no reason.
Second, if it's an item we may need at some point, but don't really use very often, find a place somewhere else that these items can coexist together.
For instance, we have spare headphones, extension cords, random electronic chargers, and other parts to items that we aren't currently using, but don't necessarily warrant being thrown away.
To house these items, I have taken a 12″x12″ canvas bin in my office and dedicated it to all the misfits.
So now, if anyone is looking for some device's piece, charger, or extension cord, they are all in one specific area to be rifled through.
So I guess, I don't have a junk drawer, but I do have a junk bin.
4. Follow my checklist for decluttering & organizing any space.
With having done these key items above, it's now time to follow my original decluttering and organizing checklist.
Using this checklist will make working through your kitchen desk clutter much more efficient.
To me, it's what I need to stay focused to go from beginning to end.
Keep in mind, when you are after a quick-win, perfection is not something at the top of the list, but true function for the season of life you are in now is.
So embrace the one day adventure and get. it. done!
You got this!
See the results of my kitchen desk organization quick win below along with the sources for the organizational items I used. I'll be back soon with more from the quick-win series.
After Photos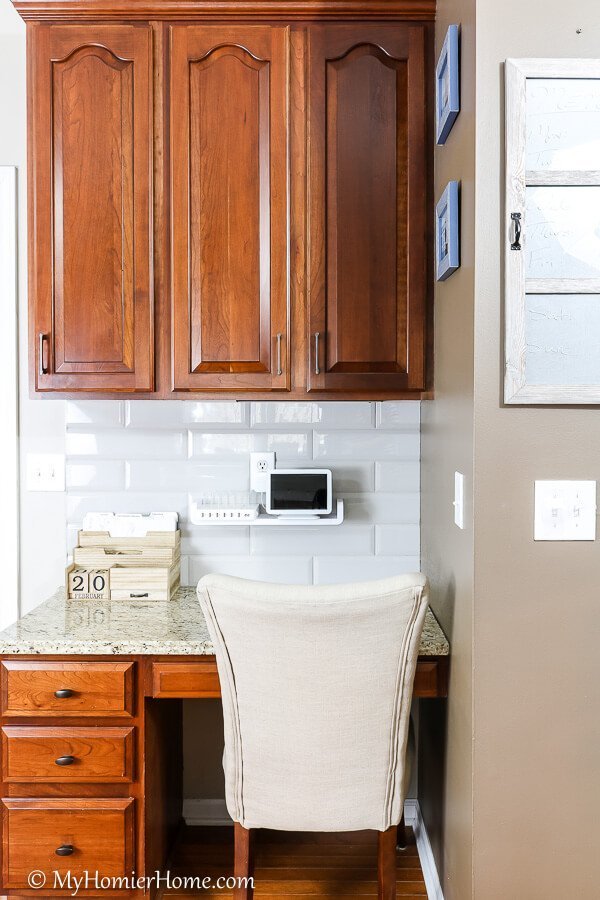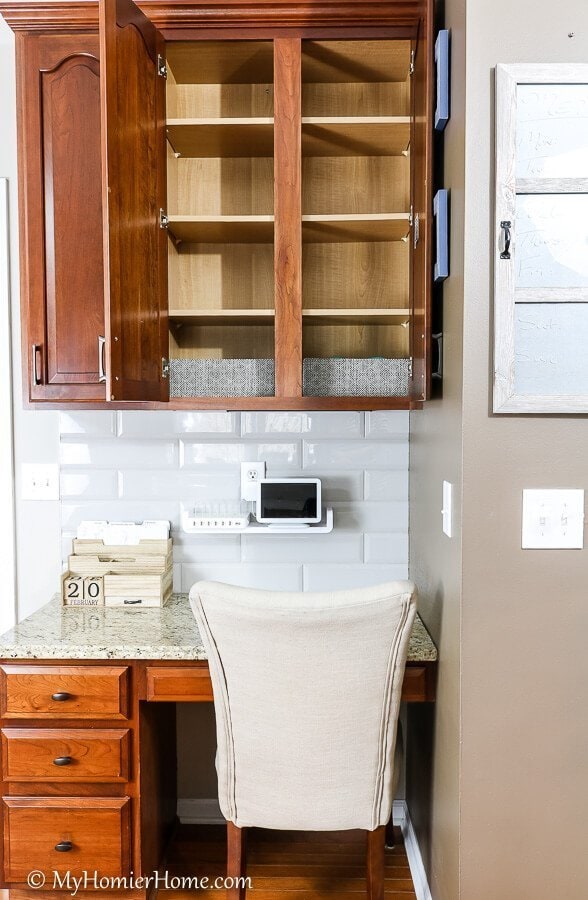 Leaving room for all the baby stuff to come.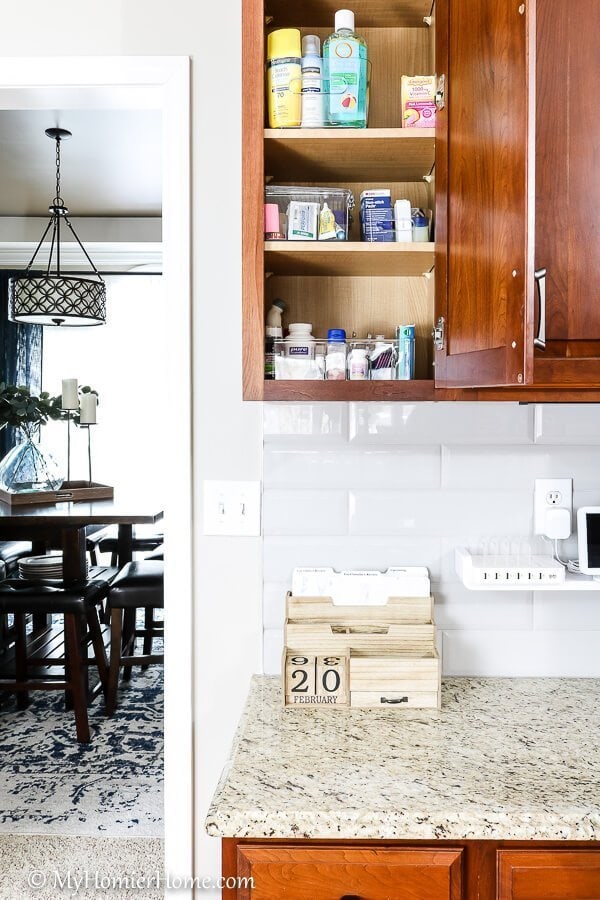 A folder for me, a folder for Chris, and a place to house the cords for the multiple charging station.
And easy to see and grab medicine, band-aids, and sunblock.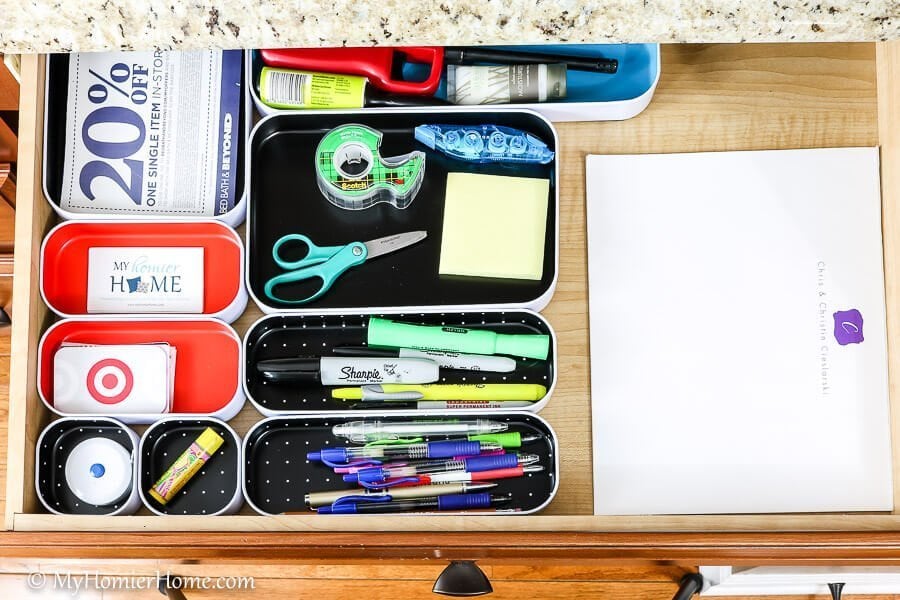 A place for everything and everything in its place!
Weekly used items, such as cards, including a sectioned euchre deck, headphones, a neck wrap, and the dog collar.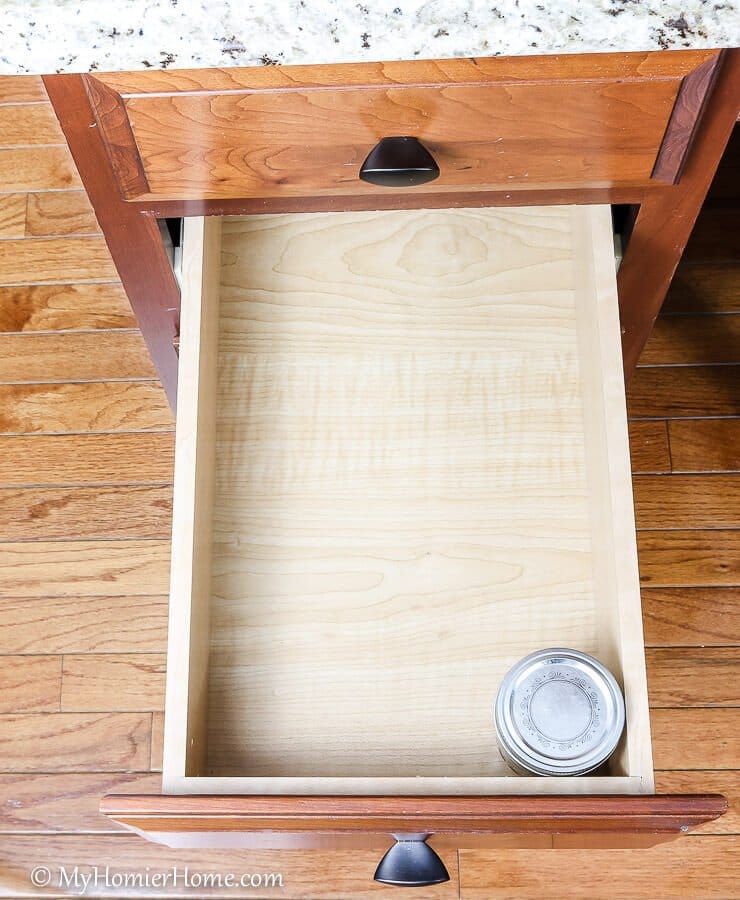 And more room for baby items!
Source list for Kitchen Desk Organizers
Disclaimer: This post does include affiliate links for your convenience. This is at NO additional cost to you but earns me a small commission. To read more, check out our disclosure policy.