Blue, Gray, & White $100 Guest Bathroom Reveal
Transforming a builder-grade bathroom on a $100 budget can be done!
The day has finally come! My $100 room challenge guest bathroom revealed! I am so excited to show you this reveal I can't even stand it!
Disclaimer: This post does include affiliate links for your convenience. This is at NO additional cost to you, but earns me a small commission. To read more, check out our disclosure policy.
Before Photo
To remind you where I started, here are the before shots of the guest bathroom…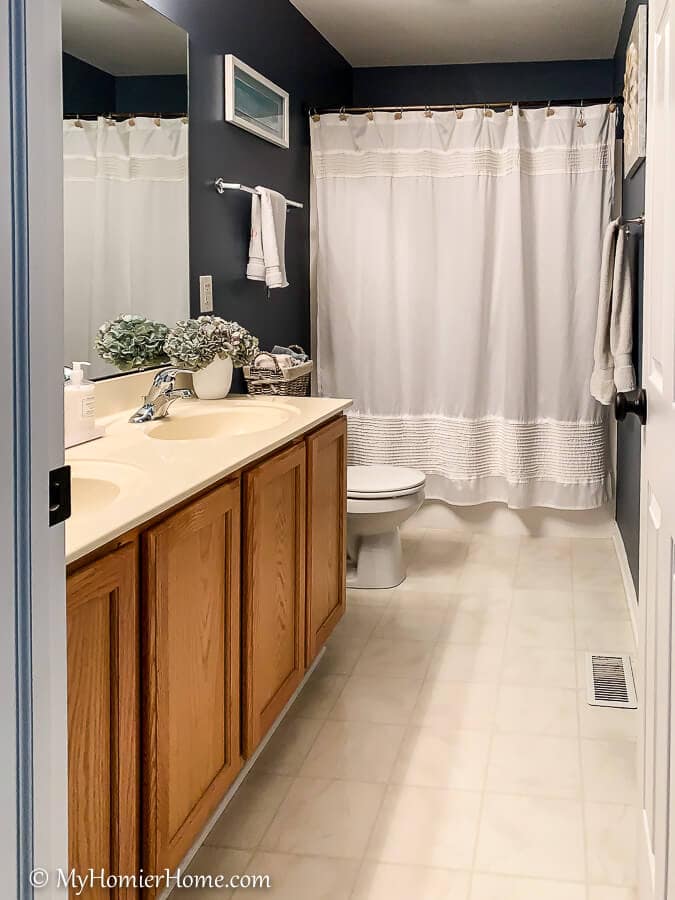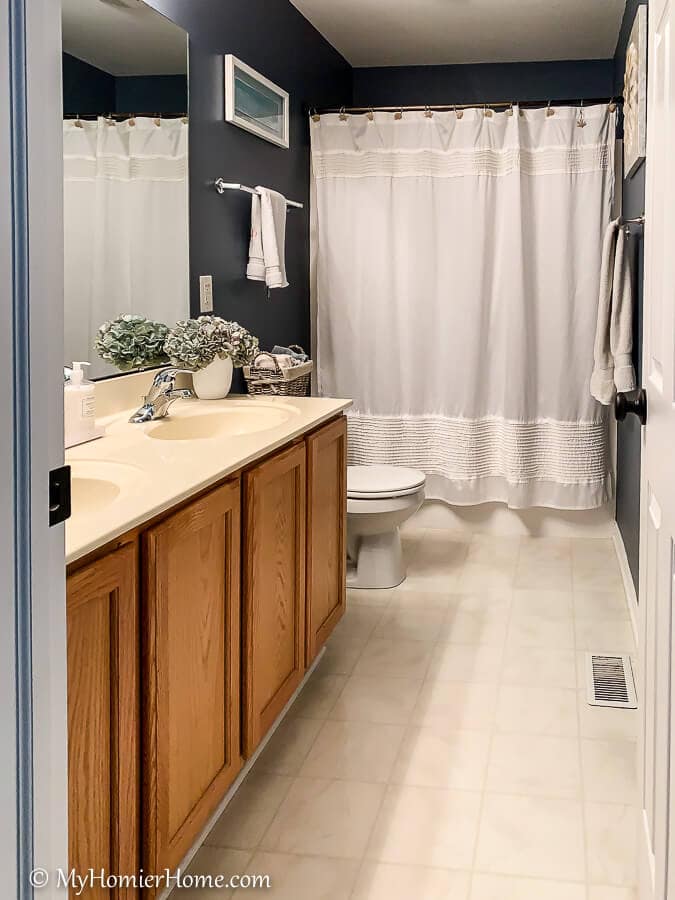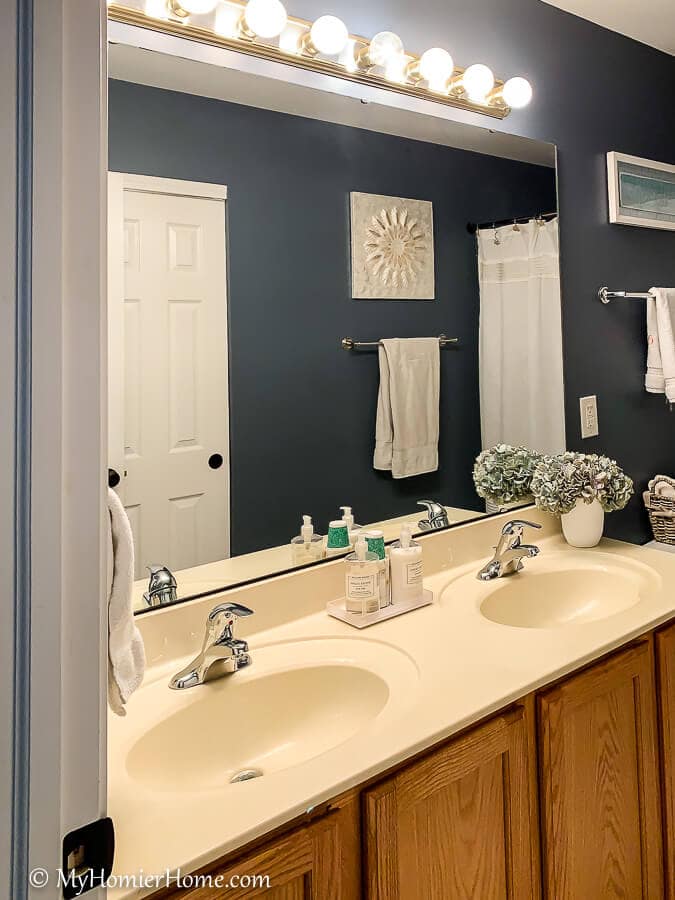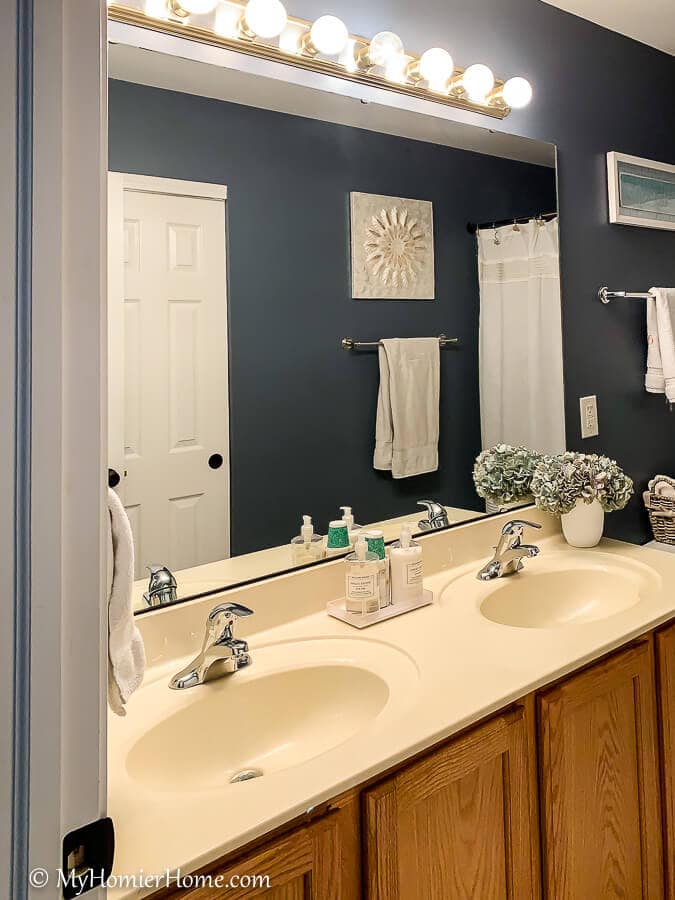 The Plan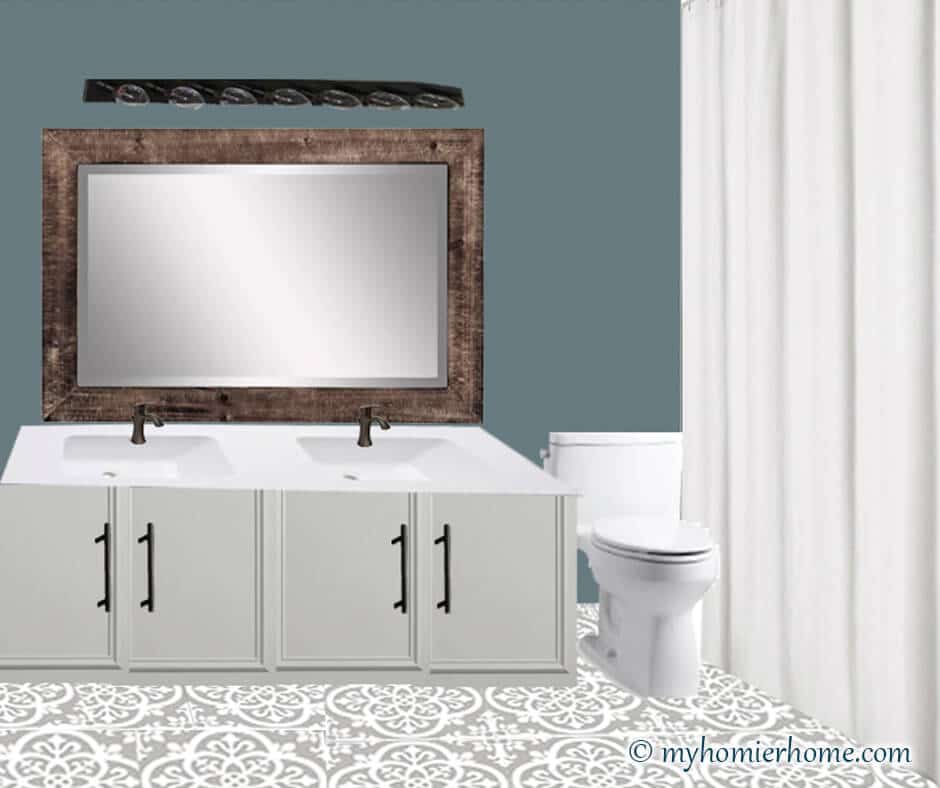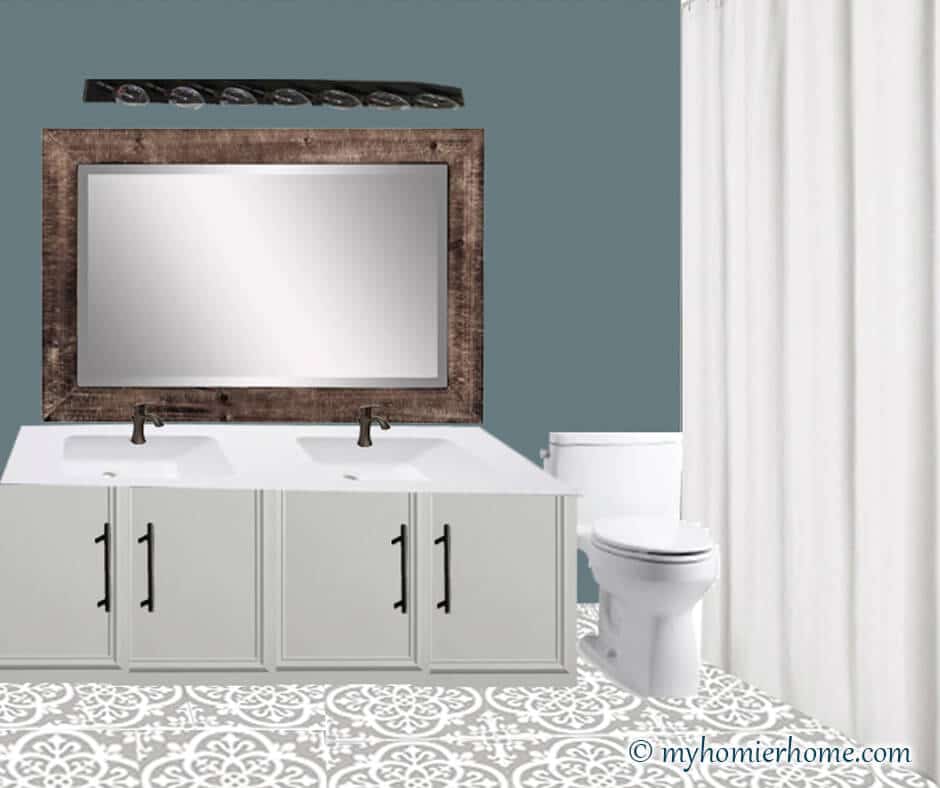 Here's what I set out to do 4 weeks ago all for under $100…
Build and hang the mirror frame

Spray paint the vanity light with oil-rubbed bronze spray paint

Add pulls to the cabinets

Changing the flooring to a fun pattern

Decorate/Hang a shelf
Seems like a long list, but with some DIY and salvaging, I did it!
After Photos
Before I get to the cost breakdown, here's what the guest bathroom on a budget looks like now!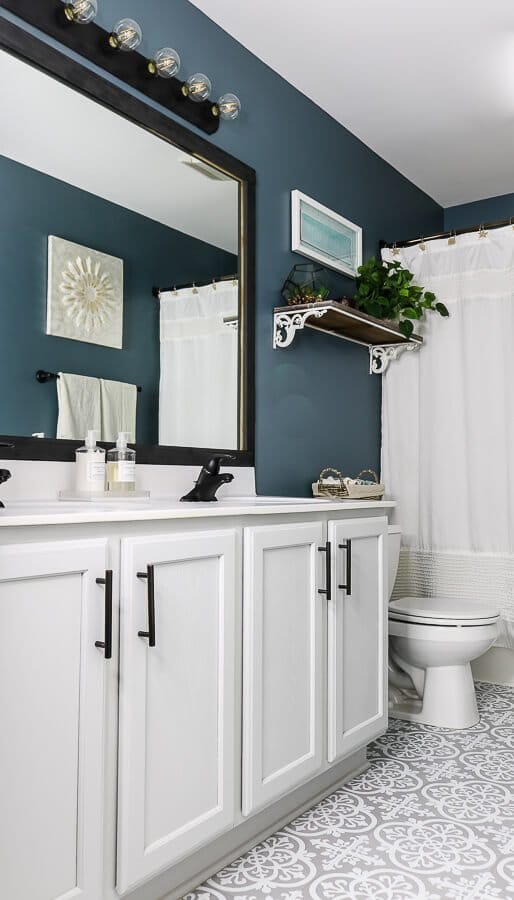 I still have a bit of work to do in decorating, but I'm gonna save my cash until I find the right pieces. I'm thinking some kind of hanging terrarium type feel under the shelf to fill the gap.

Painted Vanity, Added Pulls, Spray Painted Countertop & Faucet, Laid Peel & Stick Flooring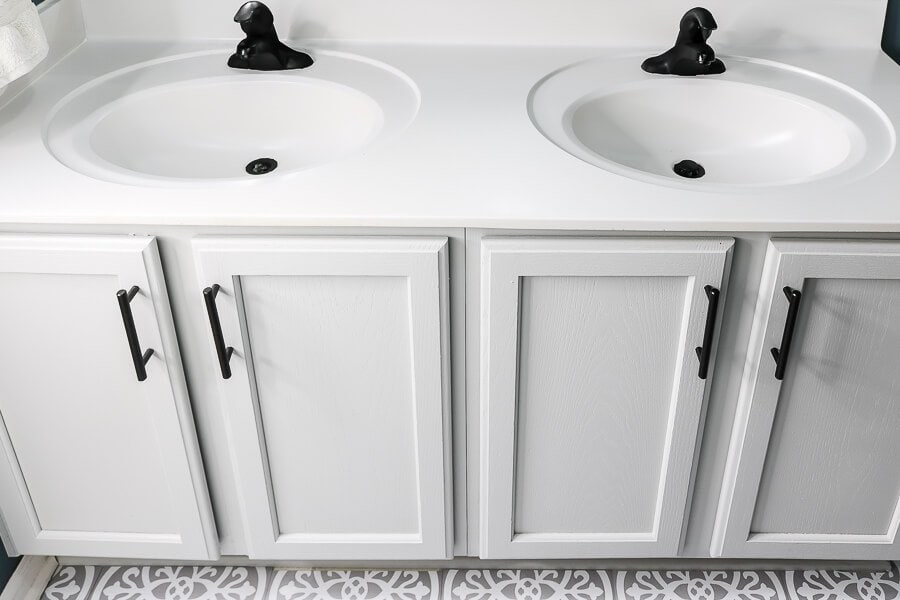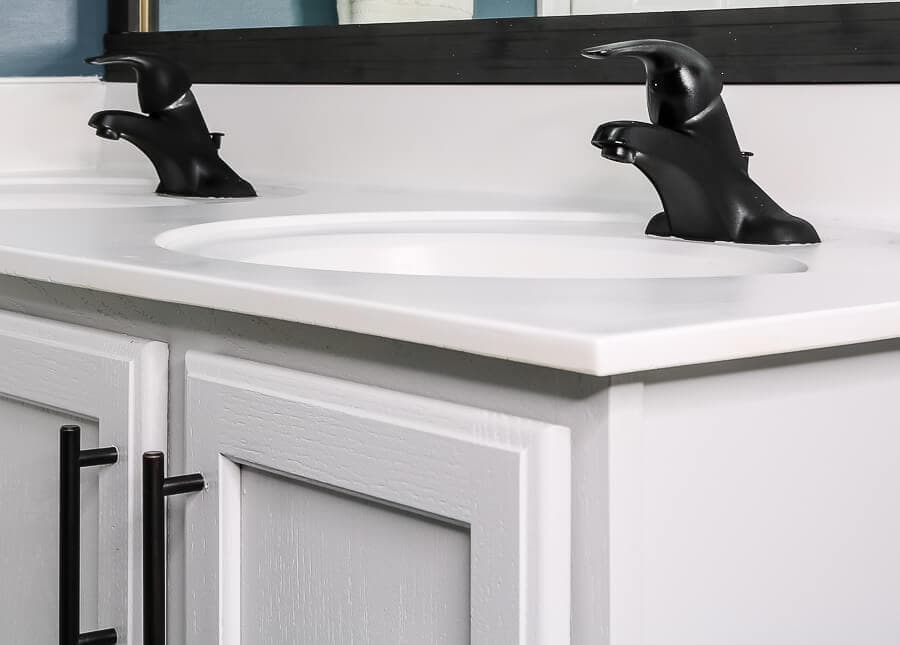 You can see in my close up of the spray painted faucets that my taping wasn't the best and I missed some spots under the handle.
However, as they do in Indian art, including a flaw in your work makes it personalized. And I kind of like the silver remnants peaking out.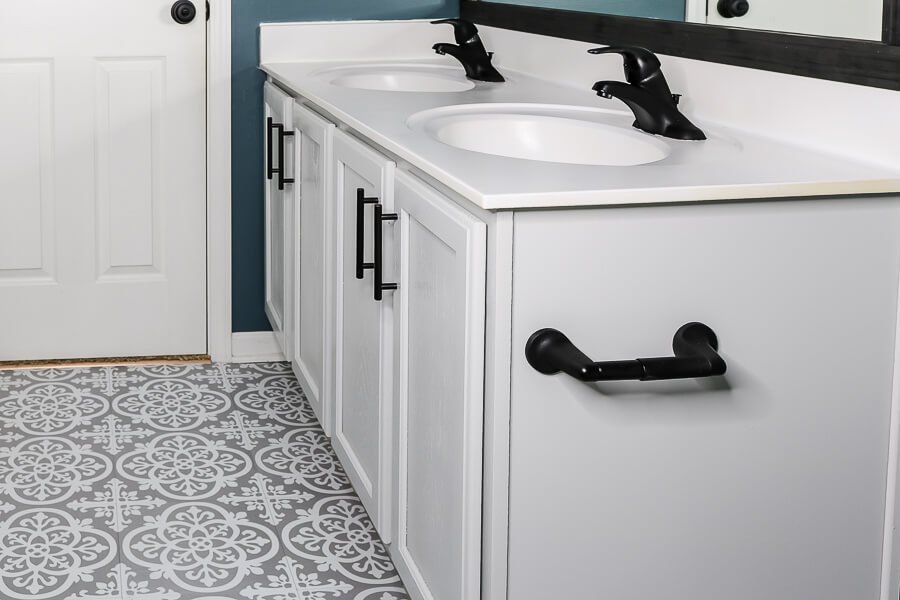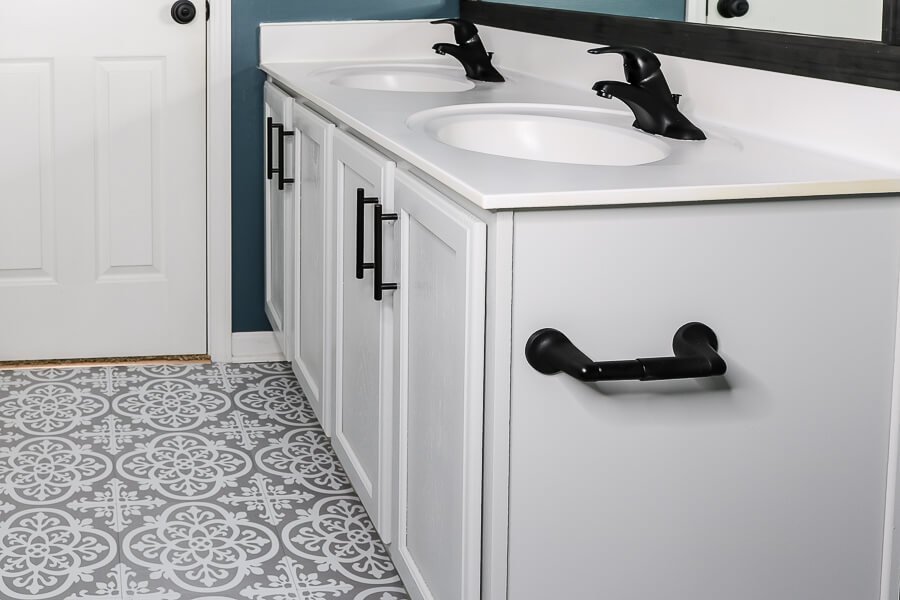 But that floor!!! I still can't get enough!
I want to finish caulking some areas, but it was time to pick up little missy from daycare, so that'll have to wait.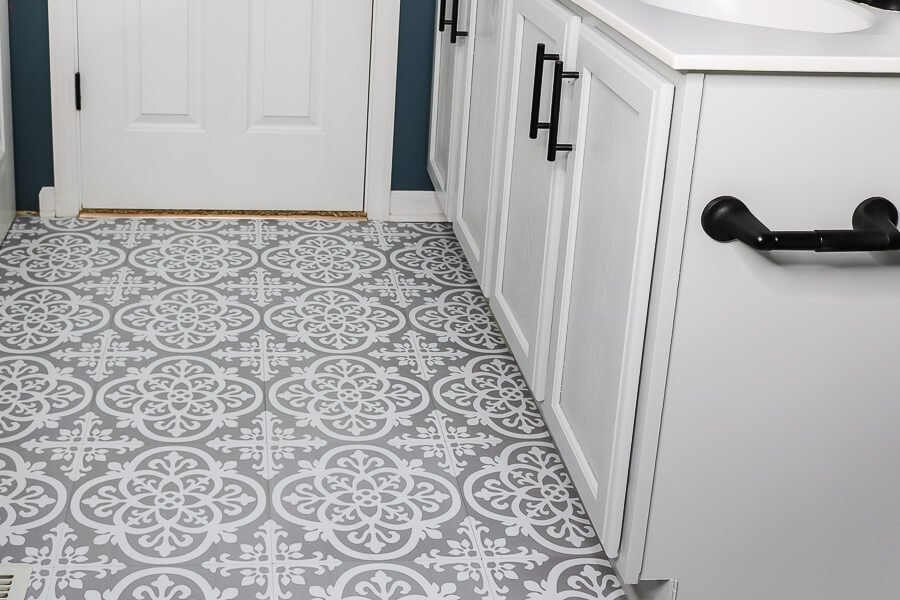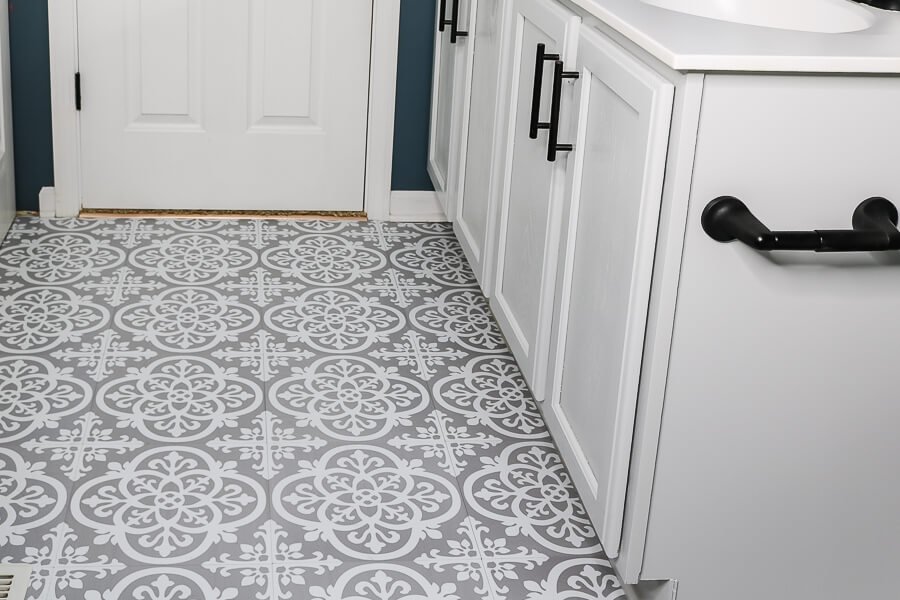 I used the best tool for attaching pulls.
I loved this cabinet jig to attach the pulls. It mad each one exactly the same which is fantastic.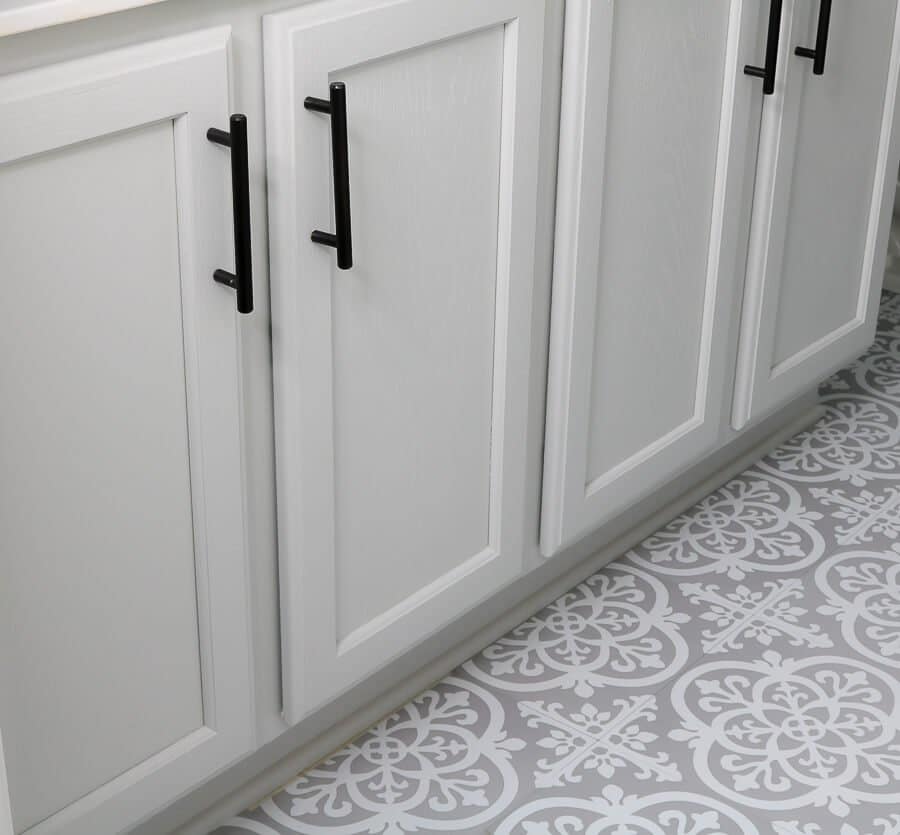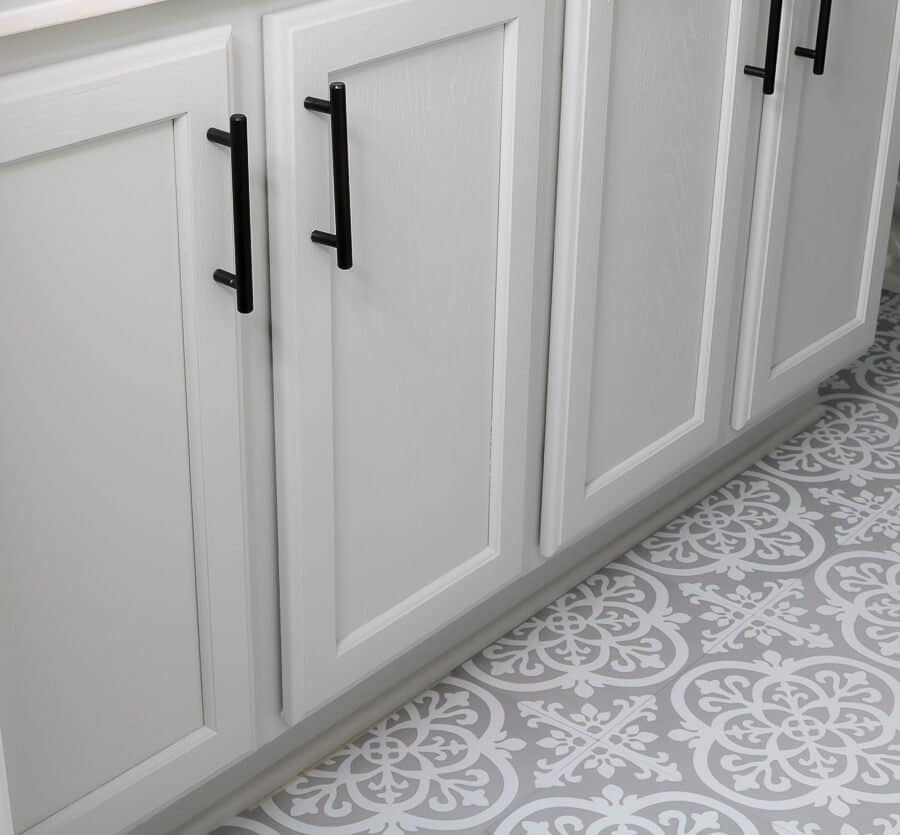 Spray Painted the Towel Holder Accessories, the Vanity Light, and the Wood Surround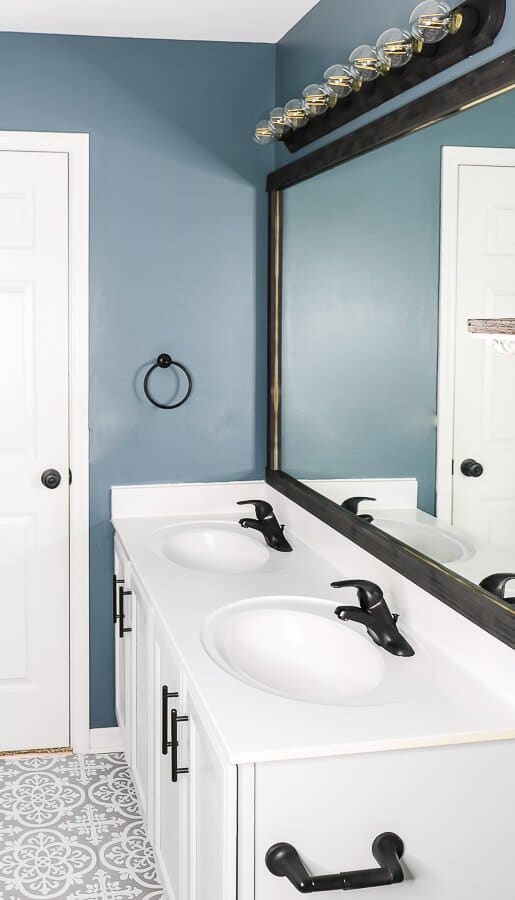 Spray painting the vanity light and building the wood surround was probably the easiest part of the whole project.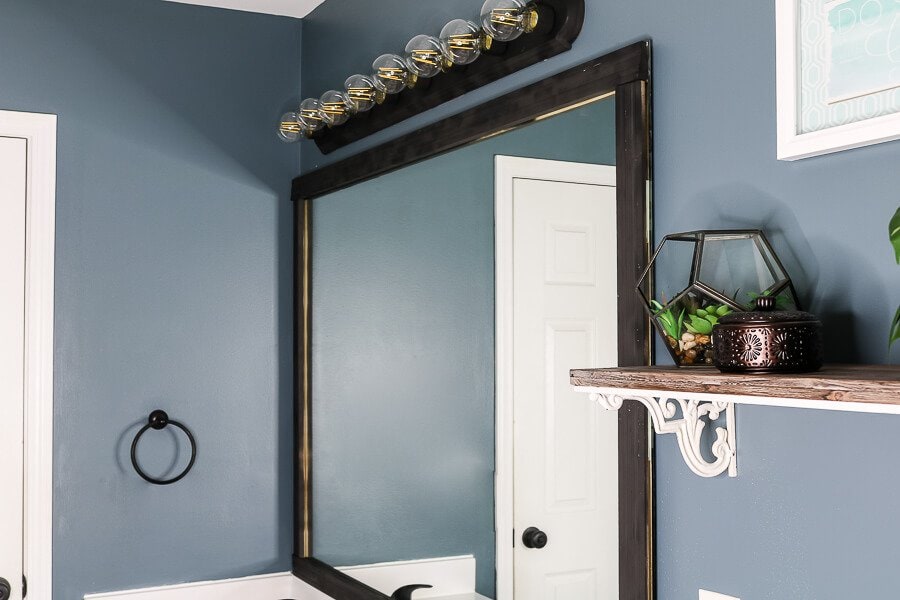 The wood surround is actually leftover trim that went around our door casing. I spray painted it using the automotive primer and attached it with 3M picture frame velcro strips.
I actually had the grooved part facing the mirror and the flat part facing out initially for aesthetics.
Lucky for me, it actually worked great that way because I was able to put the velcro strips in the inset part to make it more flush.
I would recommend spray painting all sides if you plan to do this, but I ran out of spray paint, so I'm considering the part you can see reflecting in the mirror as accent lol.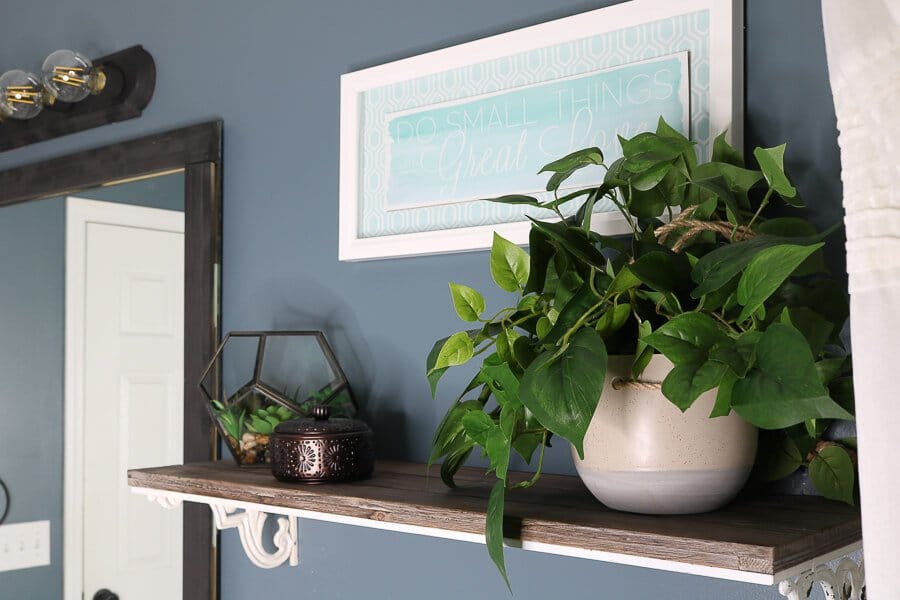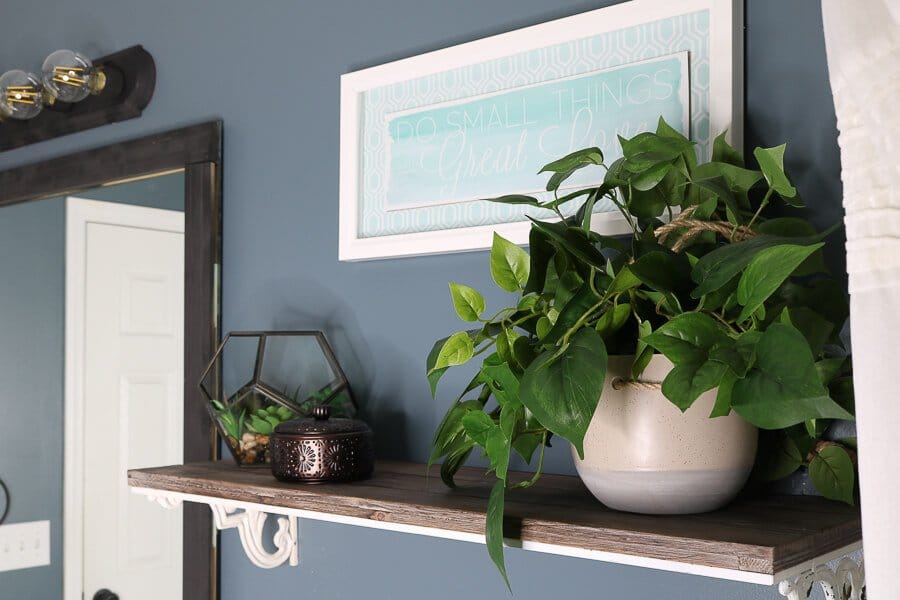 Last but not least, I added a shelf to this space and plan to add more underneath the shelf since there is a big gap, but I repurposed some decor and this shelf that has been kicking around for awhile.
Cost Breakdown
The moment you've been waiting for… How did I actually do this on a $100 budget? Below I will show you how my budget broke down, but also how much it would cost if you did this without these materials on hand because it is still so cost effective no matter which way you look at it! Here we go…
$27 to

paint the vanity

$27 – Since I only used not even a fourth of my gallon of paint, I'm going to count this as half the price of what I purchased

If you were doing this project, you could get a quart size can of paint at Home Depot for $27 and that would work too

$0 to paint the countertop white

$0 White Appliance Epoxy Spray Paint (Found some at my mom's from a previous project… jackpot!)

If you had to buy, it would cost you $5

$11 to paint the faucets

$11 – 2 cans of Automotive Spray Paint in Dark Gray

$0 – 1 can of Lacquer top coat (I already had these items)

$0 – Frogtape + Brown paper (I already had these items)

$0 to paint the bathroom towel hangers

$0 – Used the same 2 cans of automotive spray paint above and lacquer top coat

$0 to build and hang the mirror frame

$0 – Used leftover trim and automotive spray paint listed above

$0 to spray paint the vanity light with oil-rubbed bronze spray paint

$0 – Used the same 2 cans of automotive spray paint listed above

$0 to add pulls to the cabinets

$0 – Used leftover pulls from kitchen

You can find these at a wide range of prices, some as little as $3/pull

$60 to change the flooring to a fun pattern

$60 – 4 boxes of peel and stick flooring

$0 to decorate/hang a shelf

$0 – Repurposed decor and a shelf I had in the basement
For a grand total of $98!!
You can purchase any of the items I used to complete this guest bathroom makeover on budget by clicking any of the pictures below.

Don't forget to check out all the $100 room challenge reveals below! There are some amazing projects!!