Cozy & Rustic Living Room Refresh | ORC Week 3
Week 1 | Week 2 | Week 3 | Week 4 | Week 5 | Week 6
Week 3, week 3, week 3… I was feeling productive. Knocked out a bunch of odds and ends including taking the 6-foot tall box lamps up a 9-foot ladder by myself to the second story ledge in the living room.
My only mishap was squishing my hand between the ladder and the lamp when I got it to the top rung… the bruise is finally going away.
Good times.
Wondering how I did it or why I did it all by myself?
Well… drop me a comment… I'll give you the deets #independentlystubborn. 
Following in the theme of week 1 and 2, I thought I would give you an account of the TV wall phases.
This blank wall has irked me since day 1, but I'm glad I found pictures of the varies stages of growth to show you!
Remember the infamous red drapes I spoke of in week 1?
Check out what the other side of the room looked like… I love these pictures because apparently I never thought turn the TV off #ADDdecorating.
So you can see my box lamp in the corner that worked wonderfully in our first house, but seemed a little squatty in this much larger room.
I also love me some birch trees, so I tried a whole stick and tree option to take up some room on this enormous wall… and who doesn't need a pillow basket?
In the second picture, I have all the same stuff with a few added blanket baskets and antique crates I purchased at our local antique market (If you are ever in the Indianapolis area, you have to check out Midland Antiques… totally awesome).
Now, it starts getting good… At that same antique market, I found this totally rustic door.
I'm obsessed.
This is one of my favorite pieces in my whole house. It was one of those moments where you walk by once and then quickly back up. It took me about 30 seconds to contemplate before I was hauling it up to the register.
I also made the baskets float for cuteness, but also functionality since the dog loves to eat blankies. The window frame came from a craft show in town, but it got lost a little because the color of the window is very similar to the wall color.
Anyone notice the upgraded television, too? I'm a firm believer in the bigger, the better mentality when it comes to TV's (just ask my cousin who's boyfriend brought home a 75″ at my encouragement while I was staying at their new house #badinfluence).
The second photo in this group starts to lead into the current setting… My World Market fiddle leaf fig has finally come in!
I felt like the room was getting to be a bit bland, so I needed some color to spice it up! The antique silver frames from West Elm are the perfect touch for the gallery wall and go really well in the living room… this picture was my analyzing picture… approved!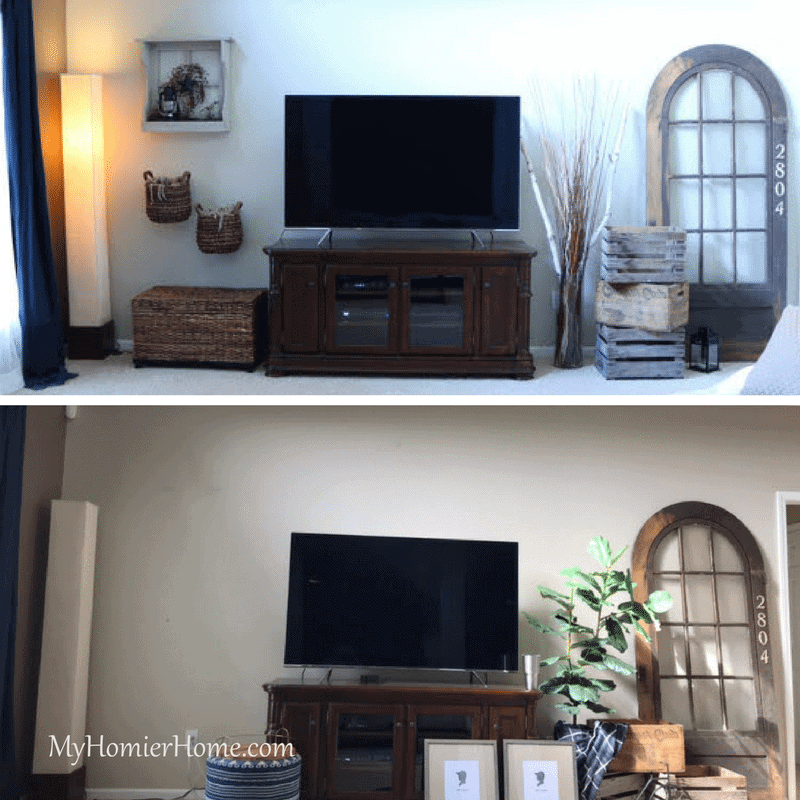 Since I only bought two frames to try, I only had two cutouts (they give you those ones in pink), so I engineered some identical ones out of construction paper… to bad I only had weird colors, but It gave me a good visual as to what it was going to look like.
The first picture was one option, but as we lived with it for a few days, I thought it was a little too crowded for all that.
Therefore, I decided on the second picture's layout, which I am very pleased about… (Bonus Question: Can you name the show I'm watching in the second pic?? lol… I love it… TV always on)
Ok, so here it is… in all of its glory… in all of its… uneven glory! AHHH! #shouldhavehiredsomeone
UGH!! Did you use a laser level? Yes!
Did you use a measuring tape?  A ruler? A stud finder? Yes, yes, and yes.
I may be the worst person ever to try to hang picture frames… The very middle one is pretty good, but the rest are just slightly off… something happened from putting the anchors in to putting the screws in… but no worries… the hubs promised he would help me fix these this weekend.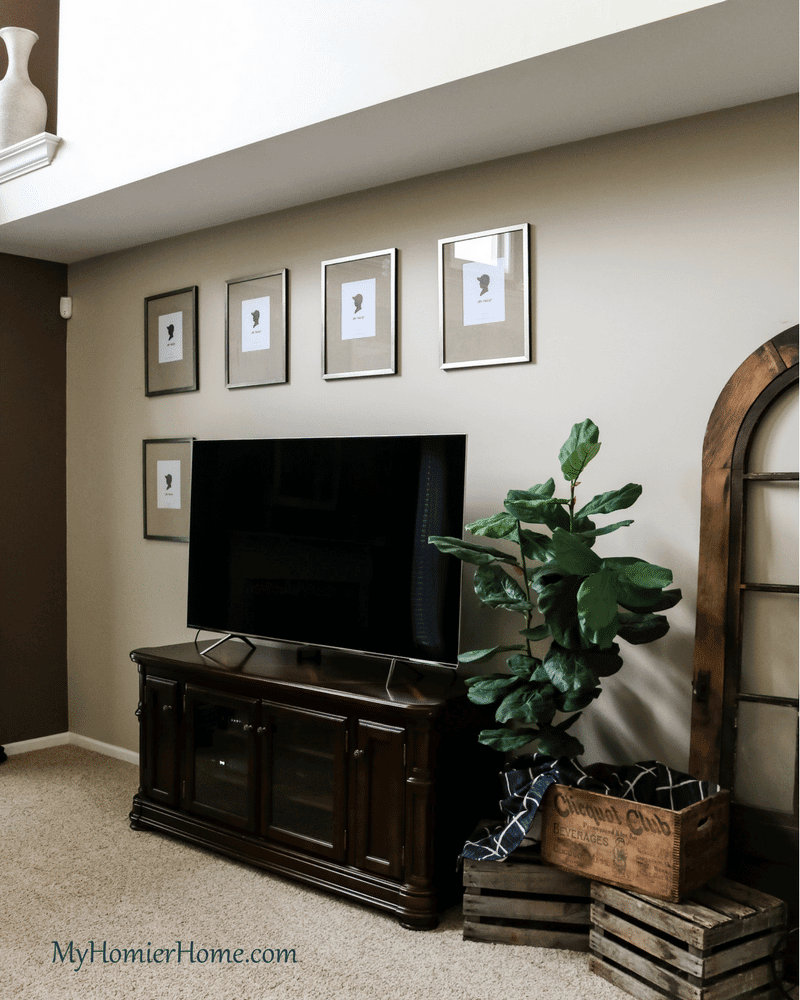 In this picture, you can definitely see how jacked up (especially the top left) they are… I was so sad.
Tears definitely fell, but I didn't want to hide from my somewhat progress this week.
My goal was to finish this gallery wall, so I'm going to call it a partial win.
Note to self… wait for help, move the TV and furniture out of your way instead of reaching over everything, and, oh yeah, wait for help. #impatient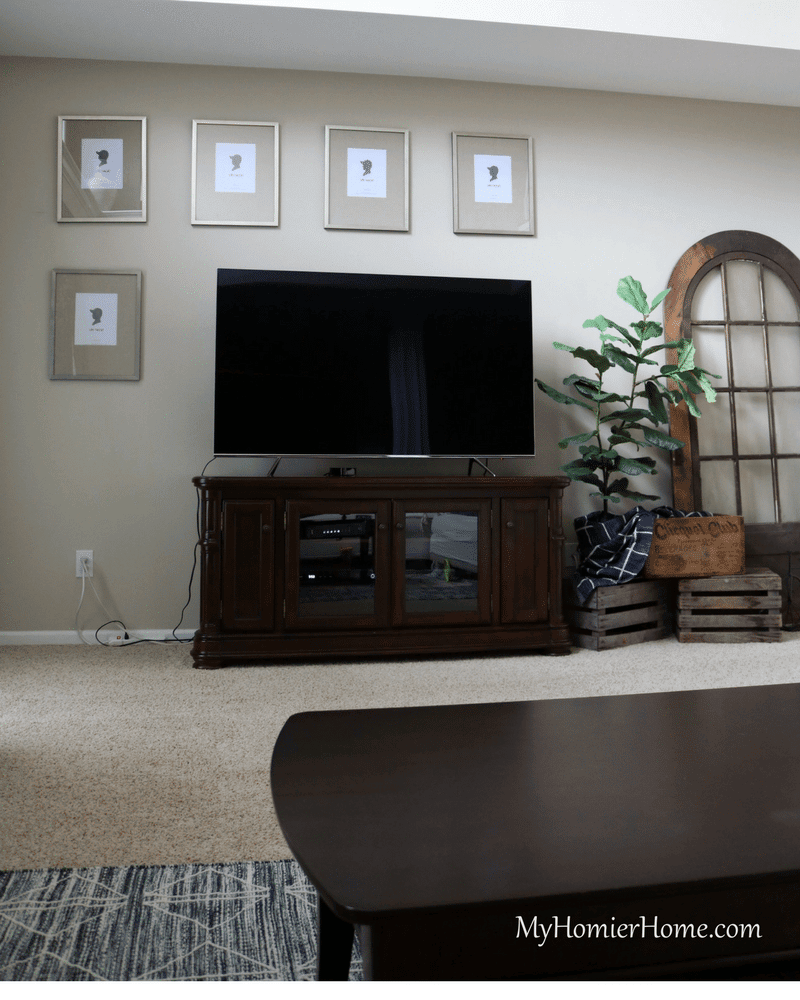 You can see a tiny glimpse of my new throw rug from West Elm… but I want to save the full version until the end (insert evil villain laugh).
I cannot wait for the chair I ordered to get here, but they are calling for 10-12 weeks, so it won't be by the end of this challenge.
However, I may drag our other leather chair in from the front room to hid my cords and give the full effect… we will just have to wait and see. I also couldn't help, but include a puppy-inclusion picture below. 🙂 🙂
Phew… after all that, you have to leave me a comment below and let me know what you think of the gallery wall, any tips you have for fixing the gallery wall, and your thoughts on my progression of the blank television wall to the current version.
Alright, per usual, here is how I'm doing with my to-do list:
Order leather chair from Pottery Barn that I've been eyeing

Style tray next to where the chair will go

Hang floating shelves on side wall (Ordered shelves – waiting for them to ship… still)

Style shelves on side wall

Change out birch sticks for greenery (I ordered the greenery tree from World Market)

Create gallery wall of some sort around TV

Find patterned throw pillows

(Thanks Kirsten!)

Find cozy throw blankets

(Thanks Kirsten!)

Find an area rug to bring the cozy area together (Thanks Kirsten!)

Find tall "reading" lamps for the two corners or sconce lighting

Find a console table lamp?

Move existing floor lighting up to the ledge

Appropriately hang the focal clock

Hang the valley picture

Possibly find peel and stick backsplash for around the fireplace

Find patterned fabric to cover books

Find good way to organize decor magazines

Style the mantel

Style the hearth

Style the end tables

(1 down, 1 to go)

Style the console table

Style the coffee table

Miscellaneous perfecting

New: Fix Gallery Wall around TV
New: Print pictures for in the frames
For next week, I'm hoping to get the shelves in for the side wall, but we will see if they come in on time.
If they do, I want to hang them (with help of course) and style the console table and the shelves. I'm also hoping to find some floor and/or table lamps to replace the ones I moved up.
This is the first weekend in a long time we will not be running all over the place, so hopefully everything goes well. I'm already getting nervous, but deep breaths right?
Don't forget to check out the other amazing bloggers participating in the challenge right here and here! 
Be sure to follow along until the last week where I'll give you the full reveal as long as everything goes to plan and a detailed source list (aww yeah!).