Simple and Inexpensive Way to Display CD Covers as Wall Art
Take those CD covers out of the bin collecting dust and display your CD covers as wall art. Get the look simply by following the steps in this post.
Do you have complete control over the decorating at your house?
Ya, me either.
The basement is strictly my husband's territory. I don't have any say unless he asks.
I'm not complaining because there are times that this guy comes up with some seriously awesome ideas.
Case in point, today's post.
The hubs gets all the credit for this one and I absolutely love how it turned out.
Disclaimer: This post does include affiliate links for your convenience. This is at NO additional cost to you but earns me a small commission. To read more, check out our disclosure policy. As an Amazon associate, I earn from qualifying purchases.
Step 1: Gather your old CD covers.
This step might require a little digging.
We've been kicking around this box of old CDs for.ev.er.
The nice part is they were all in pretty good condition.
Talk about a walk down memory lane. I've known my husband since we were 14, so needless to say, we spent a lot of time together throughout the years.
Music has definitely been a key part of our relationship.
We've got range, too… Emo, Indy Rock, Alternative, Rap, Hip-Hop, Rock, Motown… you name it we've probably got a favorite.
For this DIY project, he picked the most notable of them all…. and/or the coolest covers.
Step 2: Arrange them by color and significance.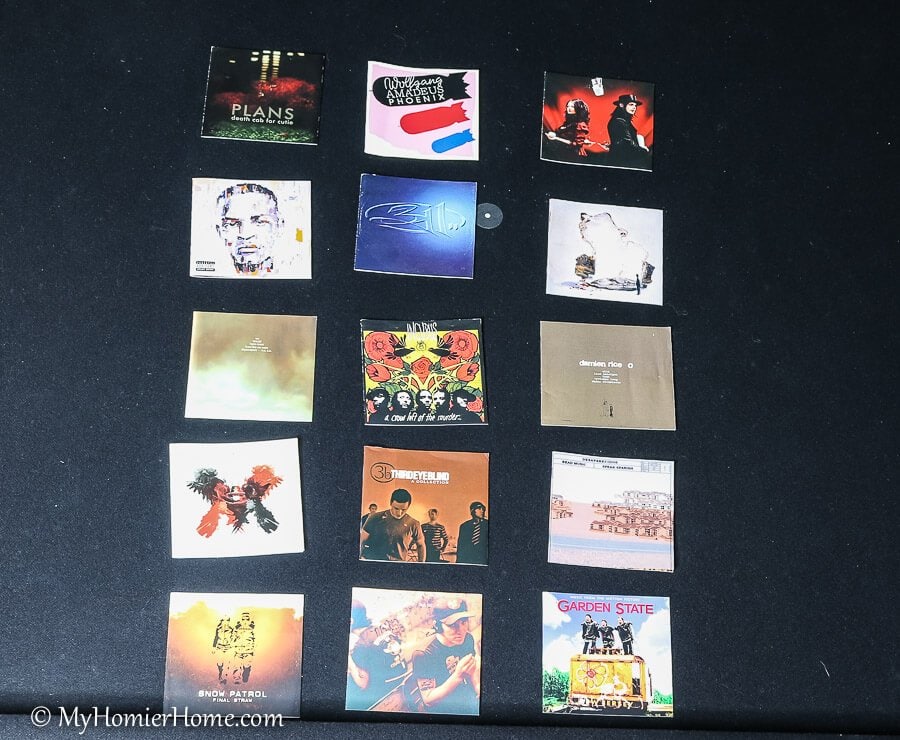 At first, he laid them all out over the pool table to see what he had.
Then he selected the most meaningful or the coolest to give the CD wall art some depth.
My only request was that the one's I hold the most dear were placed in a prominent spot.
Which one took the cake?
Why of course it was Oasis – What's the Story Morning Glory.
Arguably one of the best albums, like, ever.
It also has huge significance because it was how we met.
Let's pause for a fun story…
Picture this… Sicily 1902…
Haha… wait that's a Golden Girl's story…
Picture this… Chi 'burbs 1999
I'm a freshman in high school and I'm on the phone with my boyfriend, Jason.
He calls at 8pm every night, cuz you know, back in the day, we had phone dates.
9pm roles around and he hangs up every single night.
After a while, I'm like, "Dude, what's the deal?"
He proceeds to tell me that he is hanging up to call his buddy, my now husband.
I find this a little strange and tell him so.
Understanding I wasn't gonna have any of this nonsense, he remembers his parents pay for 3-way calling.
So, every night at 9pm, Jason dials in his friend Chris to continue our conversation.
A week goes by and all of a sudden when Jason hangs up, *click*…
Chris says, "You still there?"
OF COURSE I was still there… This guy was way cooler than the guy I was dating by a landslide haha.
He proceeds to play me all kinds of music as we sit and contemplate life.
One night he plays me a couple tracks from the Oasis CD he picked up.
Talk about falling in love…
He got me.
The best part?
I had no idea what he looked like or who he was other than these phone dates because we went to a high school of over 4,000 lol.
He can tell I was vibin' so he offers to let me borrow the CD.
"I'll meet you at your locker tomorrow," he tells me.
I was ecstatic…. until he arrived at my locker
Step 3: Attach them to the wall hangers.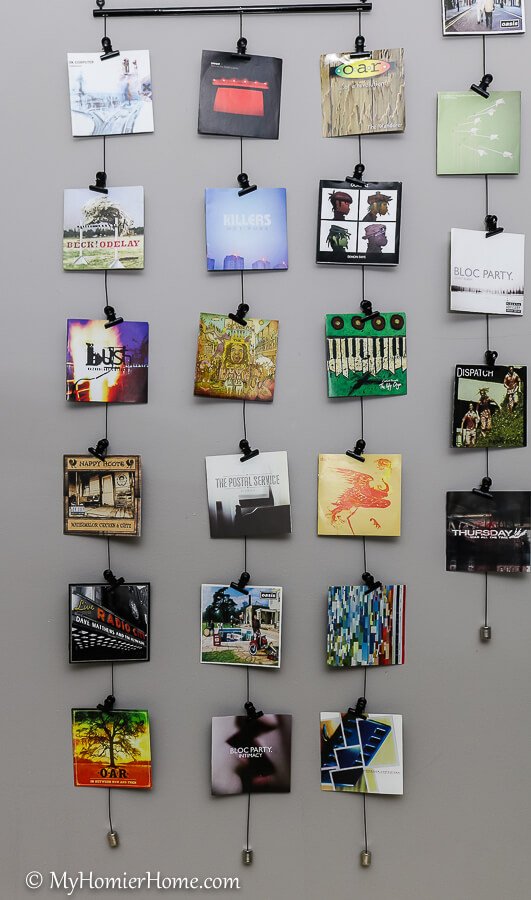 Back to your regularly scheduled programming….
These wall hangers (affiliate link) are so inexpensive and worked awesome. I think they are meant to hang cards or pictures, but they work perfect for this project!
With a level and some small picture hangers, we were able to get these up in 5 minutes.
Ok, I won't leave you hanging, ha!
To finish my story…
When he arrived at my locker, it was not at all what I was expecting.
This dreamy guy who played amazing music for me over the phone showed up wearing gray sweatpants and a white undershirt.
It gets better…
Other than what he was wearing, he rolled up with his hair blown up and out with a skinny mustache lol.
Definitely not what I had imagined, but lucky for him (or me?), he grew into his looks… and we lived happily ever after lol.
Step 4: Sit back and enjoy!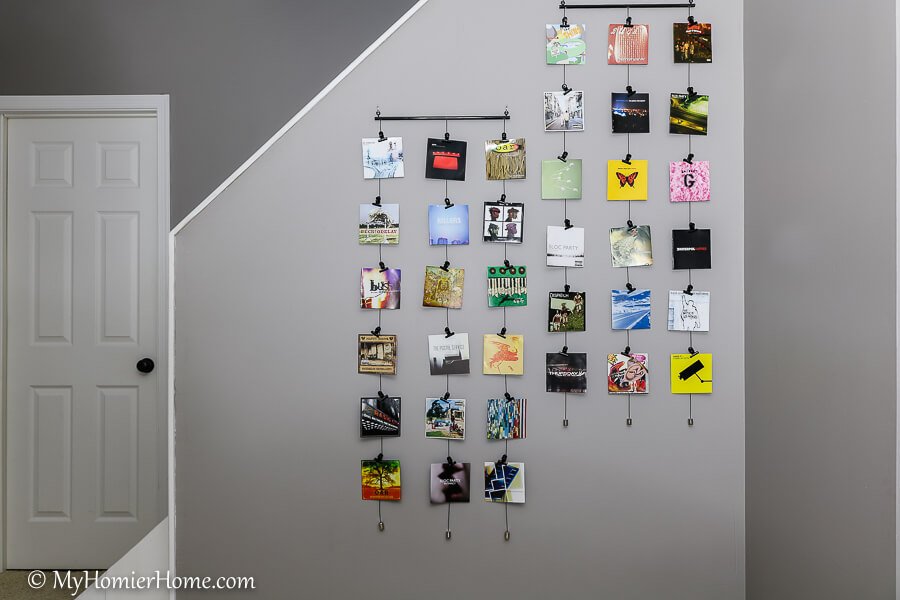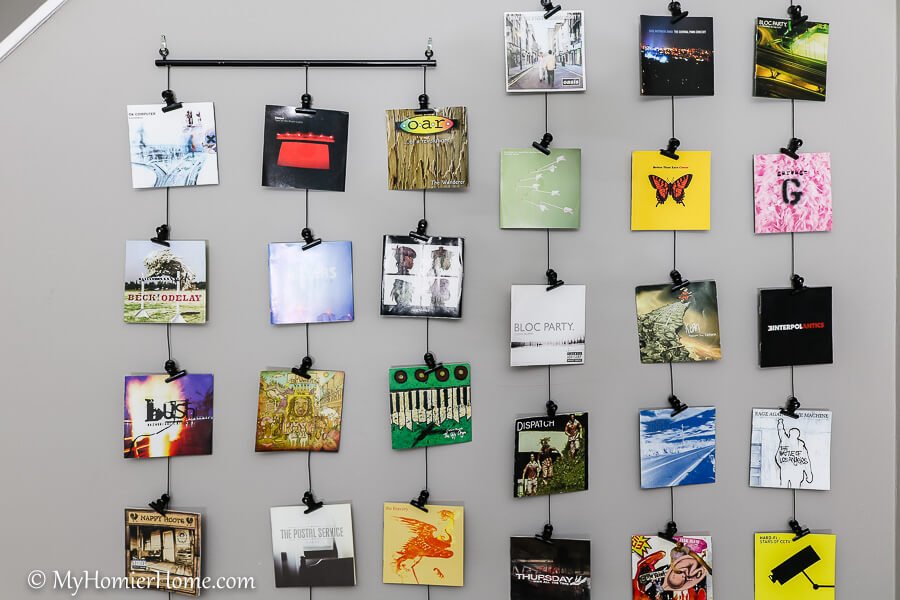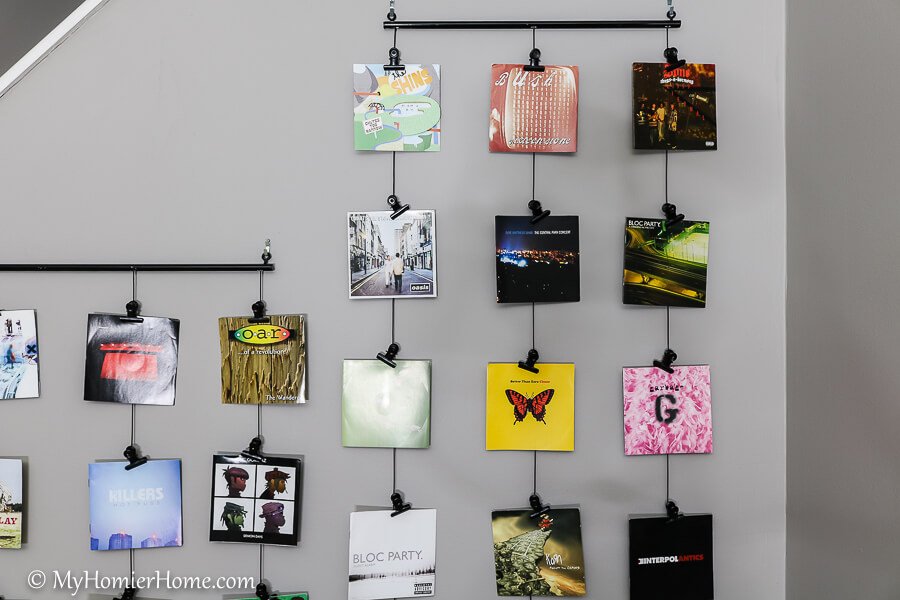 What do you think of our CD cover wall art and pseudo walk down memory lane?
Good times!
If you're looking for more wall art ideas, you can check out my large gallery wall over our stairs and the DIY acrylic frames I added to the bathroom.
And maybe next time, I'll tell you all about the college days.