My 10 Must-Visit Decor Store Favorites
How's it going, friends?
As company has been coming over for summer fun and now that my living room refresh is complete, I have been getting a lot of questions on where to go for the best furniture and decor.
In my list of 10 here, five are specifically from the Indianapolis area and the other five are in most states.
If you are from the Indy area, be sure to create an event on your calendar right now to visit these gems.
If you are not from the area, this is a great list to save for your next visit to Indy!
---
Disclaimer: This post is in no way associated with any of the stores below or Pottery Barn. This is my true opinion and I am not being compensated for any of the feedback in this post. Also, the giveaway is just for fun and is in no way associated or linked to Pottery Barn as a store or through their corporation.
---
My Indianapolis-Area Specific Fav's
If you have ever watched Fixer Upper, think of the place that Joanna goes into all the time to find her meaningful extras to add to the homes they renovate.
This is the Indy version! I love this place because you never know what you are going to find. It is a collection of old antiques as well as renovated antique awesomeness.
The door and crates shown above are my favorite finds. It was as if this door called to me… I looked at it, passed by, instantly walked backwards, picked it up and brought it to the front.
Choosing pieces with character and rustic vibes are my jam. And as I have said in step 5 of my decorating tips for a room makeover post, always find what speaks to you… literally or figuratively.
This is an absolute must go-to the next time you are in the Indianapolis area.
If you do, be sure to let me know on instagram @myhomierhome. I want to see what greatness you find!
If you have been following my Instagram lately, you will have heard me talk about this fabulous place. I discovered Open Gate at the Indianapolis Home Show.
I'm pretty sure I was turning the corner down one of the aisles and instantly bee-lined for their booth. Every item is hand-picked by the owners.
The cohesiveness and rustic feels all reach my heart on a new level.
Every season they have a big event with food trucks and discounts.
It's awesome and another absolute must visit!
3. RG Decor (4341 West 96th Street, Indianapolis, IN 46268)
Both the llama and the lamp came from RG Decor.
The collection at this shop is so beautifully setup that you'll want to buy everything. They are also a Magnolia Home Dealer, so all the things you've seen on Fixer Upper can also be found here.
They have a wide variety of items and also carry fabrics to help personalize your space.
Everything is just so gorgeous and will get your creative juices going.
My favorite part is their helpful staff. One of the ladies worked with us for as long as it took to feel good about the items we were buying.
I never felt rushed either. When you go there, I recommend walking the store one time through just noting what you see. Then, I would take a second round and start taking a closer eye at the goods.
It'll be hard not to walk out of there with half the store, but it would be a great place to peruse for your next room makeover.
Consigned by Design has a great schmattering of reupholstered, repurposed, and rehabbed items. When you first walk in, you have to look up because the chandelier game is strong.
The best part of this store besides the mix of awesome pieces is many items have a price listed, but also include 2-3 other prices with dates attached.
It's kind of like a game… if you think the item will still be there at its lowest price, then wait… but what if it's gone?
Well, then you should buy it right now!
I will say the first price is usually pretty reasonable, so if you find "the one," which you most likely will, it's definitely worth purchasing.
The couch shown above was our first purchase here, but I have so many friends that have found cool bookshelves for the living room and artwork as well.
There is something for everyone and if you don't find something, come back in a week and there will be more to discover!
5. Salvage & Co (150 W Carmel Dr, Carmel, IN)
If you're looking for unique furniture for less, this is the place.
Basically, furniture with a minor scratch or dent on it that big retail stores don't want, Salvage & Co scoops up and sells for around 80% off of retail.
At first, I thought it was going to be huge dents and scratches that are irreplaceable, but I kid you not, I looked over 3 different pieces while I was there last and I couldn't even tell what was wrong with them.
Also, because they are getting new inventory in all the time, it's a great reoccurring shopping obsession to have often.
Disclaimer: This post does include affiliate links for your convenience. This is at NO additional cost to you but earns me a small commission. To read more, check out our disclosure policy. As an Amazon associate, I earn from qualifying purchases.
My Tried-And-True Everywhere Retail Stores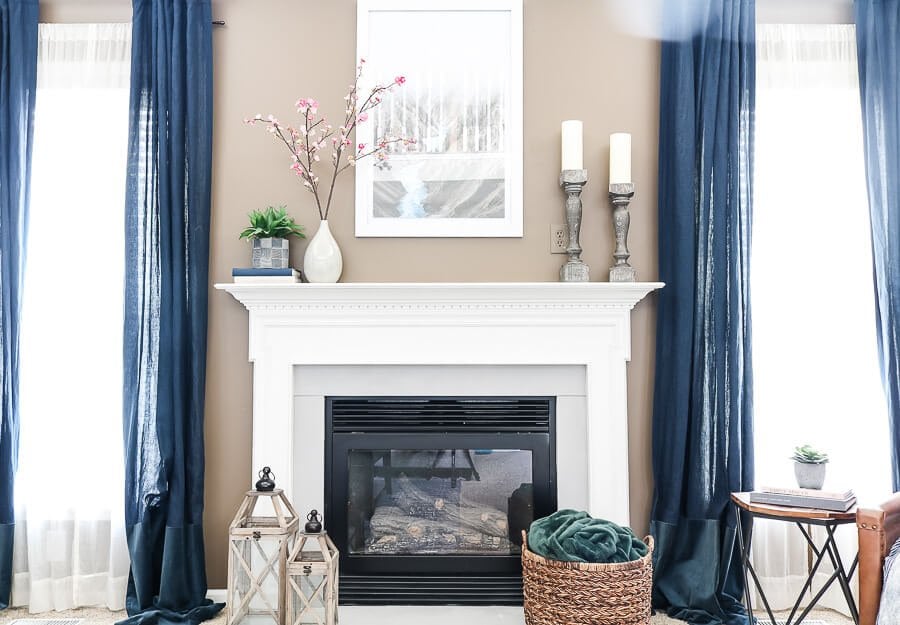 West Elm is one of my all time favorite stores.
It combines just enough pizazz with modern vibes that fits perfectly within my rustic motif.
If you haven't checked out my living room refresh yet, take a look at all my West Elm gems.
The vases, foreground pillow, and rug in the picture above are all from here.
Also, the staff is fantastically helpful when you need to bounce around ideas or need free help!
Oh my gosh… If you have never been to Home Goods you are seriously missing out.
I'm under the impression that everyone has and continues to go because it is the best place ever.
This is my favorite store to peruse weekly because the possibilities are endless!!
Can't go wrong!
---
---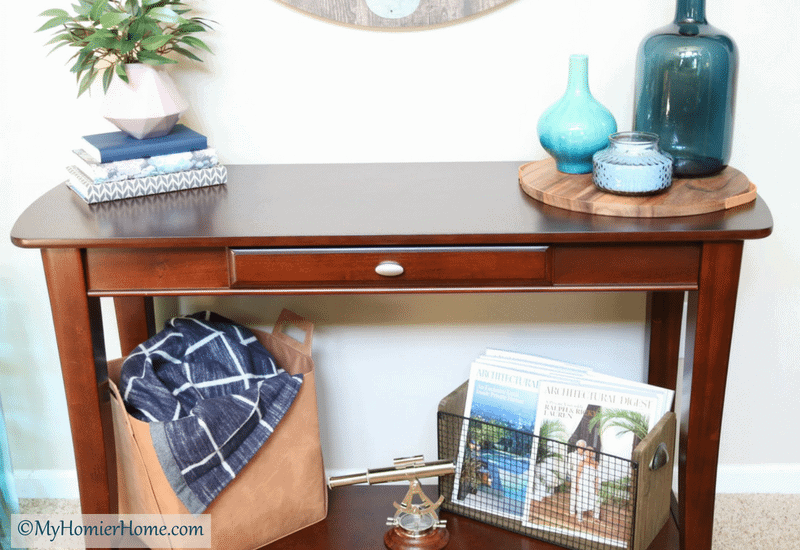 With the Magnolia Collection as well as the Opalhouse collection among others, Target is such a great place to get inspired.
I find so much beautiful decor without spending a fortune. I will warn you though this is another place that's hard to walk out of without buying something, so if you are not ready to buy… be careful.
The tray, blankets, and leather basket are a few of my Target finds.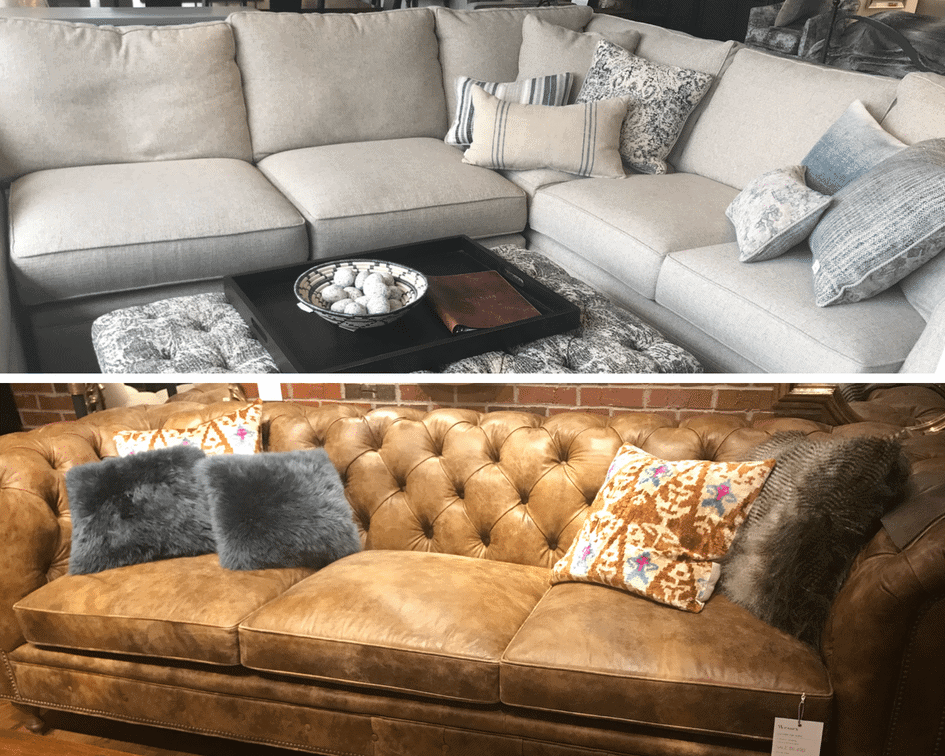 Have you been in Arhaus?
We had one back in Illinois and now there is one near the mall by our new house. This place is like what I equate heaven to look like.
Okay, maybe that is an exaggeration, but talk about being inspired… I literally love every. single. piece. of furniture in this store.
Now, it is a bit pricey, but it is such a beautifully curated collection of globally inspired furnishings. I can't get enough.
The couches above were my latest pictures while I was there. If you're not looking for full on furniture, this is also a great place for art and wall decor.
They have the cutest wall hanging vases that I have been eyeing for my kitchen. Definitely worth a trip if you've never been.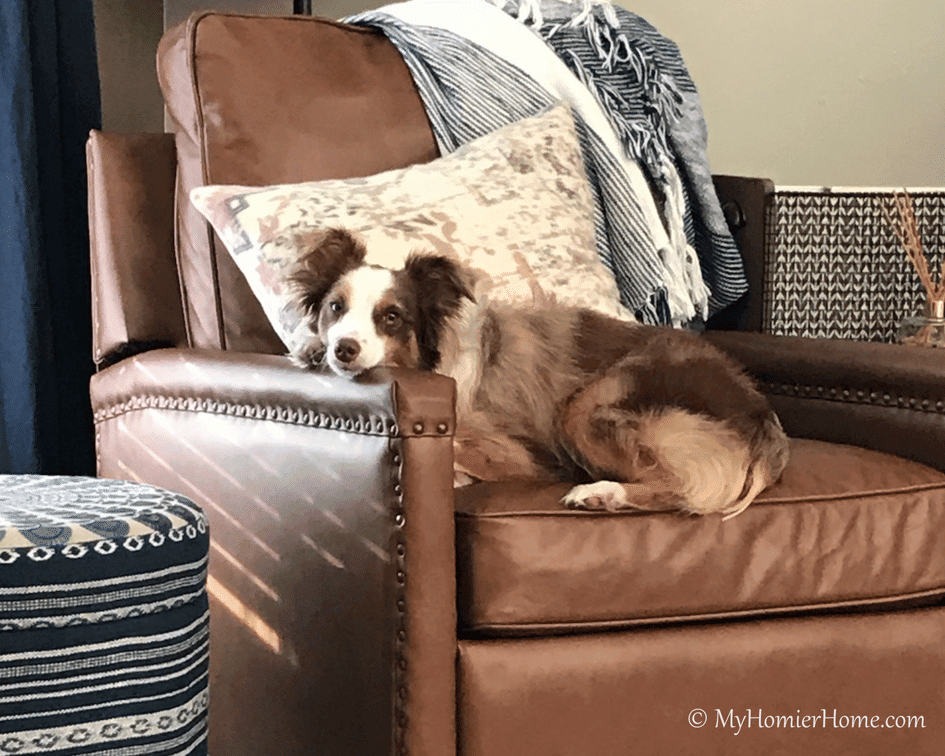 Now for the grand finale! Pottery Barn is one of my favorites for all things home, especially leather chairs! We are proud owners of the Tyler Recliner in Signature Maple as well as the Irving Leather Swivel Armchair in Molasses.
One resides in our living room and the other resides in our front room (or frunchroom for my Chi-friends).
When it comes to quality, they definitely have it going on.
We are also lovers of their rustic lighting as well. I could go on for hours, but if you have never gone and explored, be sure to take a lap and then a second lap to check out their clearance section.
There are always so many great buys for discounted prices.
---