3 Things You Must Do When Organizing Your Pantry
Struggling to organize your pantry? These 3 secrets helped me create a functioning pantry for the long-haul and they will help you too!
Who's pantry looks like a bomb went off in it?
I have organized and reorganized my pantry one too many times before I stopped to consider what it was that kept allowing it to return to its chaotic state.
Once I figured out why this was happening, it became much clearer what I should do to make it function long-term.
Pantry organization can be daunting, but you can make it function better to suite you and your family's needs.
In addition to these three tips, be sure to follow my declutter and organizing checklist to help you purge your pantry and put it back together.
But before you go diving into organizing your pantry, here are my 3 things you must do to make sure you get it right the first time. Let's get to it!
Disclaimer: This post does include affiliate links for your convenience. This is at NO additional cost to you but earns me a small commission. To read more, check out our disclosure policy. As an Amazon associate, I earn from qualifying purchases.
Secret #1: Go grocery shopping first.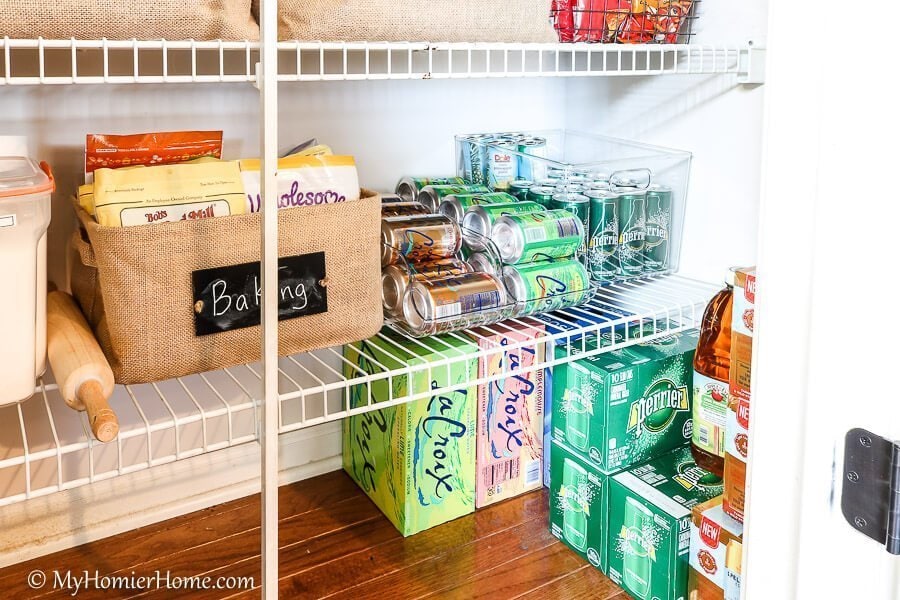 This seems like such a simple tip, but of all the times I've cleaned out the pantry and put it back together, I never seem to remember to stock up on my grocery items first.
Then, I end up going shopping and finding that I have to shove extras of things in random areas.
You want to make sure you account for when your pantry is at its fullest. 
I would even recommend stocking up on your most used items to make sure you account for those things.
Things like soup, chips, lunch items, grab-n-go snacks, etc. are the types of things we always seem to restock in a bigger capacity.
Consider what you like to have stock in and go get it! It will definitely make a difference. 
Secret #2: Organize by what you use most often.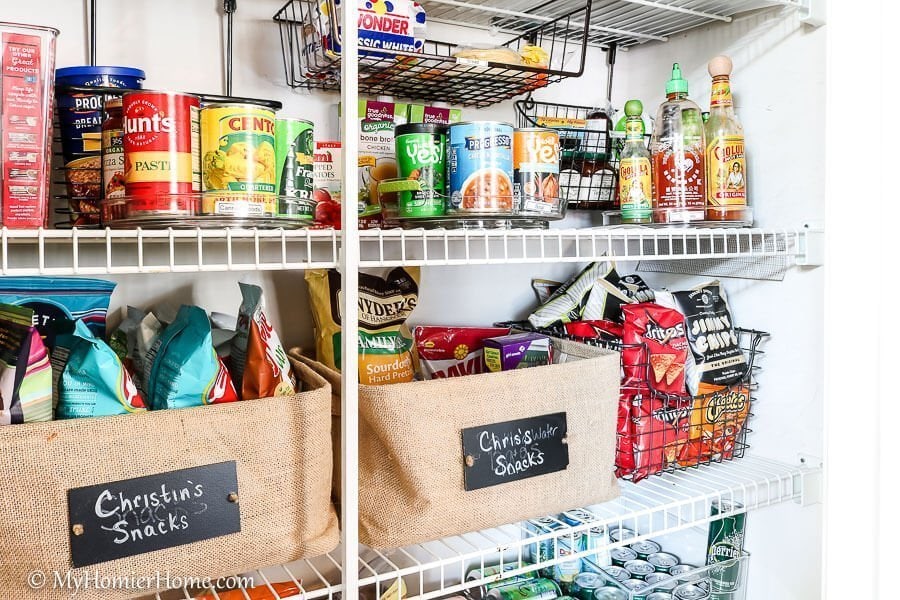 Organizing in a way that puts the items you use most often at the shortest arms reach is imperative to keeping the pantry functioning.
I have tried to put snacks on a lower level so they are out of eye shot or all paper goods across the top shelf, but these are things we use so often.
Because they were not in the shortest arms-reach, I never knew if we were out of something or if I had already opened a bag of my favorite snack.
Now that I have reorganized the pantry again to fit this idea, I find it so easy to see what I have for the most used items.
It also seems to make more logical sense.
The reason we go into the pantry most often is to grab a snack, a paper plate, or a to-go cup.
Having these items right in your face makes the ease-of-use factor go way up.
This is definitely one to think through before putting your items back into the pantry.
Secret #3: Leave open space.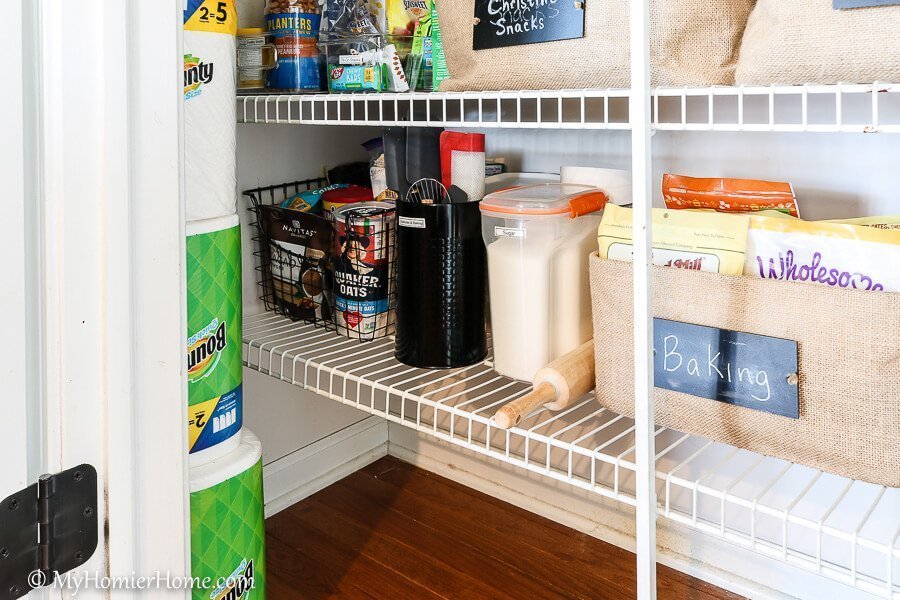 This tends to be one of the harder things to do for me because I want everything to fit perfectly.
However, in the past, I have not left room for anything extra to be added and we ended up with a disaster zone before hosting.
This especially rings true when we host our family over the holidays. 
You may not have enough space to leave whole shelves open, but try to leave some breathing room where you can.
In our pantry, I was able to leave some of the top shelf empty and majority of the floor space empty.
This way, when I stock up on things for a party or hosting, I have a neat place to house these items without them overflowing when someone opens the door.
If you've ever struggled to organize your pantry, these three secrets have allowed me to live with a functioning pantry longer than I ever have in the past.
Every pantry is different and comes with their unique organizational challenges, but I challenge you to make these three items the center of your pantry organizational endeavors.
You've got this!