In need of a back to school stress relief? Enter Dry Farm Wines! It's exactly the thing you need… and it's healthy! You'll learn why in this post.
Well, it's back to school time again. We are all busy creating new routines as we transition out of summer. Normally this is a fun kind of stress we tackle each year. Going back to school always means friends, learning and fun for kids and a more regular routine… maybe even some freedom for mom and dad. This year, the ole' pandemic decided to pull the rug out from under us.
We are all in a strange world right now and stress is at an all time high. As a high school math teacher trying to create a virtual math classroom in addition to a partial hybrid classroom, I'm feelin' it building day over day.
Virtual learning and teaching is challenging enough, but even having students in class part of the time, you realize… they're gross. And certainly it is not better for all our households to have everyone home all. the. time.
So, in the spirit of embracing the suck and finding a way to cope, I want to share with you my absolute favorite way to unwind.
Disclaimer: This post does include affiliate links for your convenience. This is at NO additional cost to you but earns me a small commission. To read more, check out our disclosure policy.
My Health Story
If you've been following me awhile, you may know this story, but for those of you just joining my journey, let me fill you in on how I stumbled upon my favorite wine company, Dry Farm Wines.
We tried for over 3 years to have a baby with no luck. We went through tests on tests and turns out nothing was really wrong with us. People would always say, that's great, you're good. But, the truth was, we had no answers. It always felt like it would almost be better to have something as long as it was fixable even though we were grateful to be deemed "in good health."
It wasn't until we had exhausted all avenues of science that I decided my overall health could be a factor. About two years ago, my sister was just beginning her journey of gut health and had begun to study all the things because she was also experiencing passive health issues. After starting her business, Not So Sugar Coated, she recommended I find a functional medicine doctor.
I ended up seeing this former family doctor, Erica, who paused her practice to study the effect of food on our bodies as it relates to disease. Then, came back as a functional medicine guru – She is amazing.
She challenged me to completely clear my diet of all grain, dairy, and sugar, but also add in vitamins and supplements. It seemed like an impossible task. But, randomly one Tuesday, I dove head first. I ate grapes for dessert, a lot of salmon, and loads of vegetables for breakfast, lunch, and dinner. It was grueling, but purposeful – I wanted to give it my all in our last effort to have a baby.
The hardest part was not feeling like you could let loose and enjoy a cocktail with friends or share a meal together with ease. I cried a lot, but after about 30 days, I already started feeling a change in my body. In the first 4 weeks, I lost 15 pounds. I didn't stop there.
Part of it was fear of what might happen if I reintroduced the foods, but the other part was determination – I was going to do this until I conceived a baby lol – ya, I'm one of those middle fingers up, can't tell me I can't, type A, enneagram 3 gals…
I ended up following this path for nearly 5 months, losing about 30 pounds, and having a baby naturally after a failed IVF.
Before baby and after about two months in on my 5 month journey, at one of my checkup visits, Erica told me about Dry Farm Wines. I was like, "Girl, you been holdin' out on me!" lol… I did not actually say that, but I was thinking it. I went home, ordered some, and fell in love.
Once I decided to join the membership and get the right amount of wine sent to me (I kept running out from enjoying myself maybe a little extra), I found out I was pregnant.
I literally opened a 12-pack of wine and had a positive pregnancy test in the same day. But, don't you worry… my girl was born in April and I've already caught back up in my wine reserves (ha!).
I tell you all this because this was one of the most stressful times in our lives (pre-covid of course), but Dry Farm Wine gave me the opportunity to let go of some of the stress without compromising my health.
And now that covid is a pain in our arse, I need this stress relief at the end of a long week.
Even if it's only for a night, I get to unwind and settle in to enjoying my home and my family – which is the whole reason most of us bother making our home look and feel great anyway, right?
So, let me take a second and tell you the who, what, where, when, and why of Dry Farm Wines so you can make an educated decision on why this form of stress relief is the way to go…
And if you use any of the links I have in this post to head over to their site, you can get your first bottle for a penny. Oh ya!
Who is Dry Farm Wine & why are they so special?
What was your favorite subject in school?
Mine was obviously Math, but my mom is an English teacher, so English was another one of my favorites.
I also went to a high school that had over 4000 kids, so we had cool programs like AutoCAD and sewing. Who knew I would be using all these skills all the time now!
The interesting part is even though I was a math girl, I did not like science.
So, I'm gonna give you the simple version of what you need to know.
If you're curious about all the science-y stuff, there's a whole other level to what makes this type of wine amazing – it's all in the way they farm 'dem grapes (you can read more on their website)…
Here's the short version of what you need to know:
Dry Farm Wines are…
Grown Organically/Biodynamically
Sugar Free (0-0.15g per glass)
Lower Alcohol (under 12.5% Alc/Vol)
Lower Sulfite (<75ppm)
Dry Farmed/Irrigation Free
Fermented with 100% Wild, Native Yeast
Handcrafted/Small Batch
Old World Natural Wines
Paleo & Keto Friendly
Free of Industrial Additives
Grown From Older Vines
The Growers of Dry Farm Wines…
Are Artisans. Craftsmen. Rebel Vintners. Activist Farmers.
Work in harmony with their surroundings. They listen to their environment and respond appropriately.
Believe in biodiversity.
Make handcrafted artisanal wine.
Rebel against modern farming practices that they believe poison wines and the environment.
Often farm the same vines that have been passed down for generations.
Other Important Info…
They have a happiness promise that makes sure you never pay for a wine you don't love
They have subscription flexibility… any frequency, any time (I'll give you my secrets on how to get started below.)
You might be wondering, how many sulfites are typically in a bottle of wine and how are these wines sugar free?
Well, sulfites are naturally occurring in wine, since they are a byproduct of fermentation.
However, many winemakers will add sulfites to sterilize or preserve their wines.
Dry Farm Wines only works with low sulfur wines (their cap is 75ppm). (If you want more science talk about all dis… check out their blog post.
And as for the sugar, when you only source wines that have been fully fermented, where natural yeasts have completely consumed the sugar in the wine, you can rid your wine of all that suga'.
Because they go through that process, you get the benefits of all of their wines having less than 1g/L in total sugars, which, statistically speaking, is dang-right sugar free!
Ok, enough science talk already…
Why you need Dry Farm Wines, like yesterday…
Did you know that regular wine has all kinds of extra additives that make it last longer on the shelves?
As I'm sure you know, these do nothing good for your body. The chemicals and preservatives are what make regular wine make you feel funny.
If you have ever felt like you had a stuffy nose or cold-like symptoms after a glass or two of wine…
Or a massive earth-shaking headache the next day, it's because of all that extra yuck the big wine maker/distributor people throw in there. No thanks.
I used to think I was allergic to wine because of those symptoms, but turns out it's just the type of wine that has all the extra *ish that makes me feel so bad.
Enter in my new bestie… Fun fact, Dry Farm Wines is the largest buyer and reseller of natural winds in all the world… Dang!
They make sure the wines jump through a bunch of hoops to pass the test. Think of it like Olympic qualifier-rounds for wine. Only the best get to be a part of the team.
What you need to know is that Dry Farm Wines is running around making sure what they send to your door month-to-month is the best wine they can possibly find.
Plus, you get to keep living that natural, healthy lifestyle you want while allowing yourself an opportunity to relax, guilt-free!
I'll cheers to that!
One more thing… They've got choices (E-40 said it best, er'body got choices).
You can choose between red, white, a mix of red and white, rosé, and sparkling wine
How you can get Dry Farm Wines + My tips
Alright, let's talk turkey.
You're probably thinking right about now… Girl, get to how I can get my hands on this goodness already!
Take it easy, take a drink… oh wait…
Here's how it all works…
Go to their website (use this link to get the first bottle of your membership for a penny)
Pick your desired type at the top (i.e. red/white/rose/sparkling)
Decide if you want to receive a box monthly or every other month
Pick how many you want per box (3, 6, or 12 options depending on what you choose)
Add to cart and await the goodness!!
Bing, bang, boom… Easy peasy!
A Veteran Tip to Get the Goods
Let's say you're not ready to become a member just yet. Maybe the idea of a subscription scares you.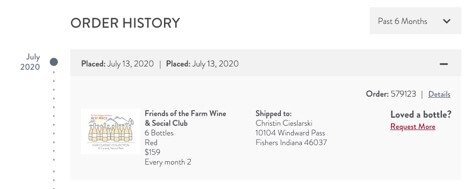 You can see in the picture of my order history, on the righthand side, "Loved a bottle?" This will allow you to request more of the bottle you loved so much.
Truth be told though, I have only not liked 2 bottles in the 50+ I've tried in the last year (don't be doin' too much math there… especially considering I had a baby in April and probably didn't start drinking again until summer [ha!]).
So, the chances of you loving them is very high.
Ways to Enjoy Dry Farm Wines
Girl, please…
On your couch
On your porch
In your bed
On the floor
Around the table
On a boat
In the yard
At a party
For breakfast
For lunch
For dinner
For dessert
Before e-learnings
During e-learnings
After e-learnings
On a Friday night
On a Saturday night
Sunday, Monday, Tuesday… it don't matta!!

All that matters is you need some stress relief right now, and what better way than the healthier way.
So head over to Dry Farm Wines to get your first bottle for a penny and then open the closest window and yell…
"Bring it on virtual world! I got this!"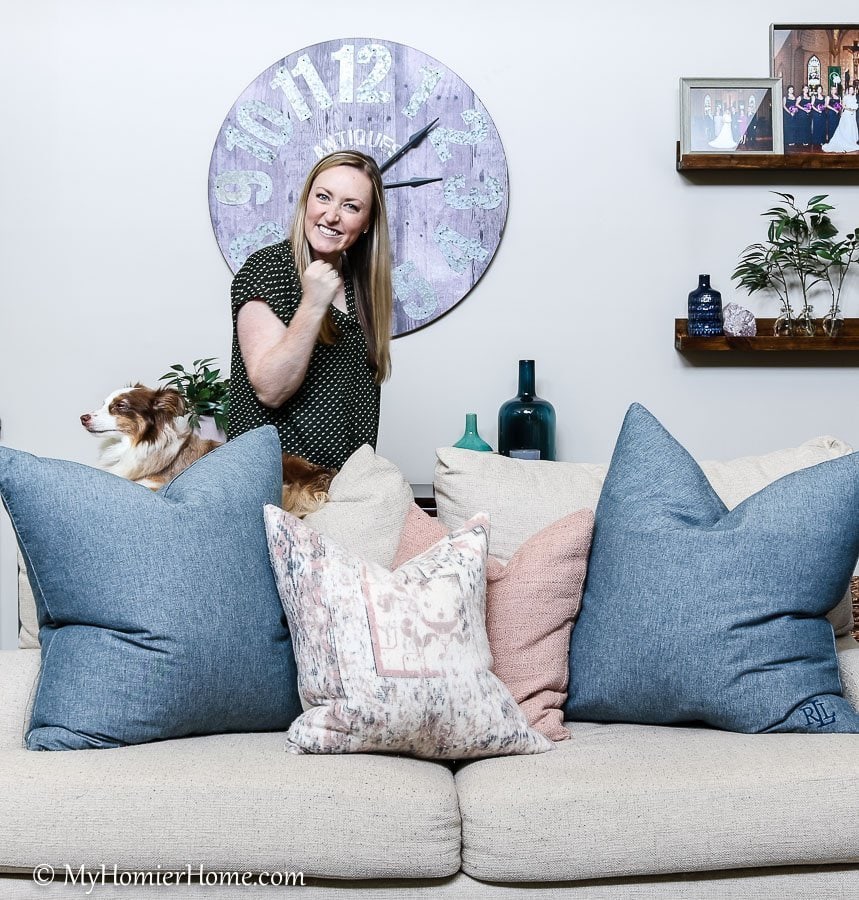 Because girl, you got this!
Frequently Asked Questions
HOW LONG DOES IT TAKE TO SHOW UP AT MY DOOR?
It will depend on where you live, but for me, from the time I hit Place my Order to the time it shows up at my door, it's less than 1 week.

So go ahead and place your order today and you could have it by next weekend. If you're in a real pinch, they have options for expedited shipping too… eh hem, next day anyone? lol
DO I HAVE TO BE HOME TO SIGN FOR MY SHIPMENT?
Someone 21 years of age or older does have to be there to receive the package. However, if you know you're not going to be home, you can either request they bring it to your local UPS store and pick it up later. You can ask a neighbor to sign for you.

Or, if you know your UPS driver, sometimes you could work with them on how to safely drop it off and give your permission to leave it. That last one doesn't always work, but every now and again, I've had luck with our resident UPS driver to make sure all is secure and he knows no one is
WHAT IF I WANT TO TRY THE WINE BEFORE BECOMING A MEMBER?
As I said earlier, try a box by gifting one to yourself, a temporary membership, or a full on membership with the option to cancel any time. They also offer one-time seasonal promotion offers if you sign up to receive their email newsletter.
WHAT DOES IT COST TO BE A MEMBER?
It varies on box, but you can check all the pricing here. But keep in mind, the price is the price because it reflects their commitment to supporting fair trade pricing for the family farmers who grow Natural Wines.

These small wine growers are committed to sustainable agriculture and to winemaking practices that respect the Earth and our health (get it farmers!). 

In order to ensure the wine's safety and quality in transit (since they don't do any of that extra preservative *ish), Dry Farm Wines uses transport materials that cost a little more than the average Amazon delivery. 

Also, keep in mind wine is very heavy and expensive to ship, so they gotsta factor that in to account. Either way, I'm telling you it's worth every penny to have a guilt-free evening (afternoon… morning… who's counting?) to unwind.
IF THEY SEND ME A WINE I REALLY LIKE, CAN I REQUEST THAT ONE SPECIFICALLY?
Heck yes! See my order history picture above on the righthand side. There is a place to request more of the bottle you loved. Yippee!!

Also, they do offer a VIP program, where Dry Farm Wines can curate any one time box for you on the side.
These orders are separate from any subscription you have with them, so you'll just have to send them an email (VIP@dryfarmwines.com) if that's something you want to do.
WHAT IF I DON'T LIKE THE WINE I'M SENT?
No worries! I doubt this will happen, but just in case, they do have a happiness promise.

Their promise is that if you don't like one or all of the bottles in your box, they will replace them or refund you in full – no questions asked. All you would have to do is email them.
How can I learn more about the wines that were sent to me?
Dry Farm Wines has a Wine Library for their Members! You can use this page to get information on the wines in your box (varietal, country, tasting notes) and even exact lab test results. Just send them an email at service@dryfarmwines.com.