Want a little something special for your guests this holiday? Create a festive apple cider bar with all the fixings plus a place for some complimentary goodies.
This year, we wanted to make the holiday celebration extra special. I've been scheming all kinds of ways to bring the festive cheer, but my favorite so far is this apple cider bar.
Most people put together a hot cocoa bar, but we aren't much for liquid chocolate over here lol… chocolate candy or cookies? Sure!
On the other hand, we LOVE everything apple!
So the apple cider bar was born!
Choose an area for your apple cider bar
Our dining room has this wonderfully upcycled buffet that usually just sits around collects junk.
Of all the rooms I've completed in my home, the dining room always seems to be last on the list.
One of these days I'll do it up right, but for now, this is where my apple cider bar will live this holiday.
Consider an area that has easy access to the kitchen, but also allows you to add some height, which we'll talk about next.
Disclaimer: This post does include affiliate links for your convenience. This is at NO additional cost to you but earns me a small commission. To read more, check out our disclosure policy.
Add height to your apple cider bar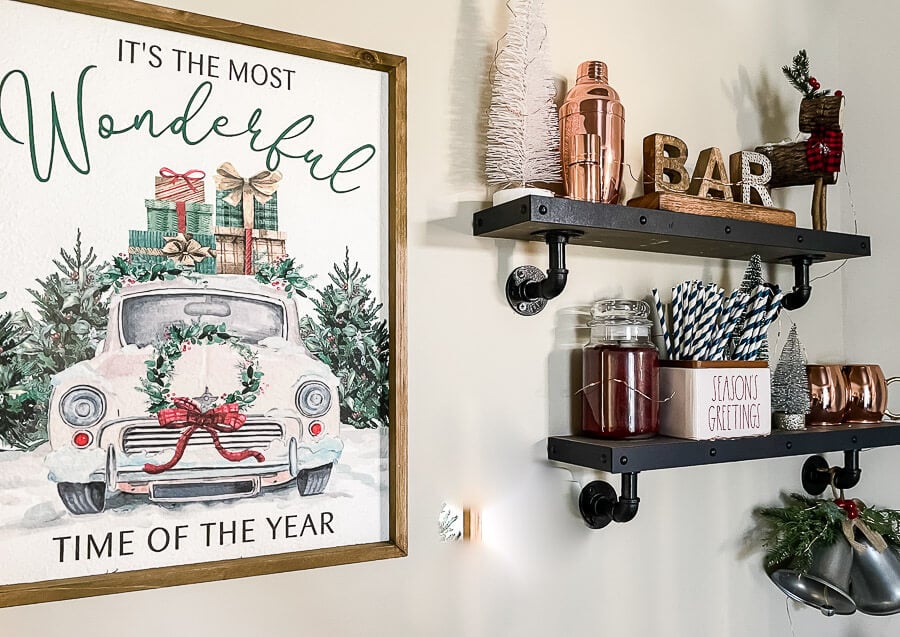 Adding some height to your apple cider bar allows you to add in way more fun.
I found the artwork above at Michaels and the industrial shelves at Hobby Lobby.
Choose a fun piece of artwork at minimum to focus your apple cider bar as its own area.
I really like these shelves because I was able to add some of our bar utensils to the mix along with some fun straws to go with our fancy drinks.

(click on any of the images to shop the products)
Gather all your apple cider fixings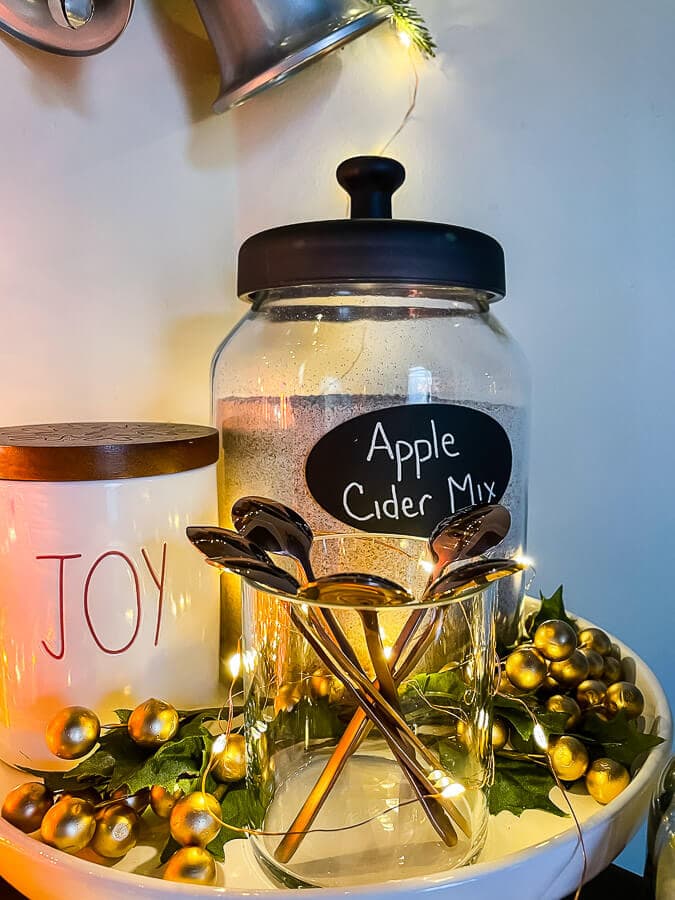 First things first, you want to get your apple cider mix ready to go.
I bought this mix in bulk from Walmart and it is pretty tasty!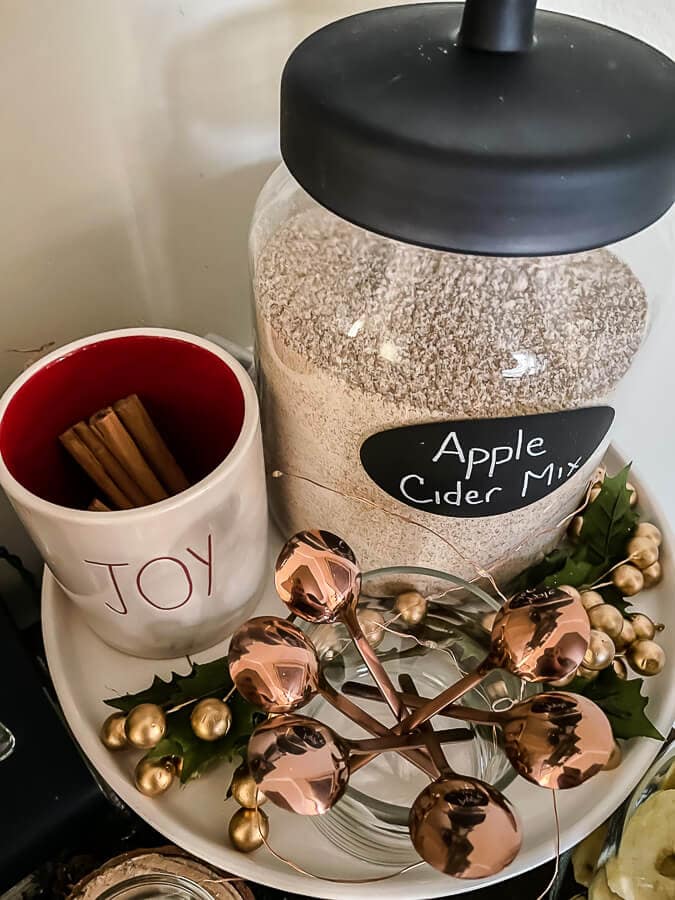 I also grabbed some cinnamon sticks to put in my joy canister for an added bonus.
These little espresso spoons are ready for serving!
You can find everything in this picture right below here by scrolling through and clicking the image you want to purchase.

(click on any of the images to shop the products)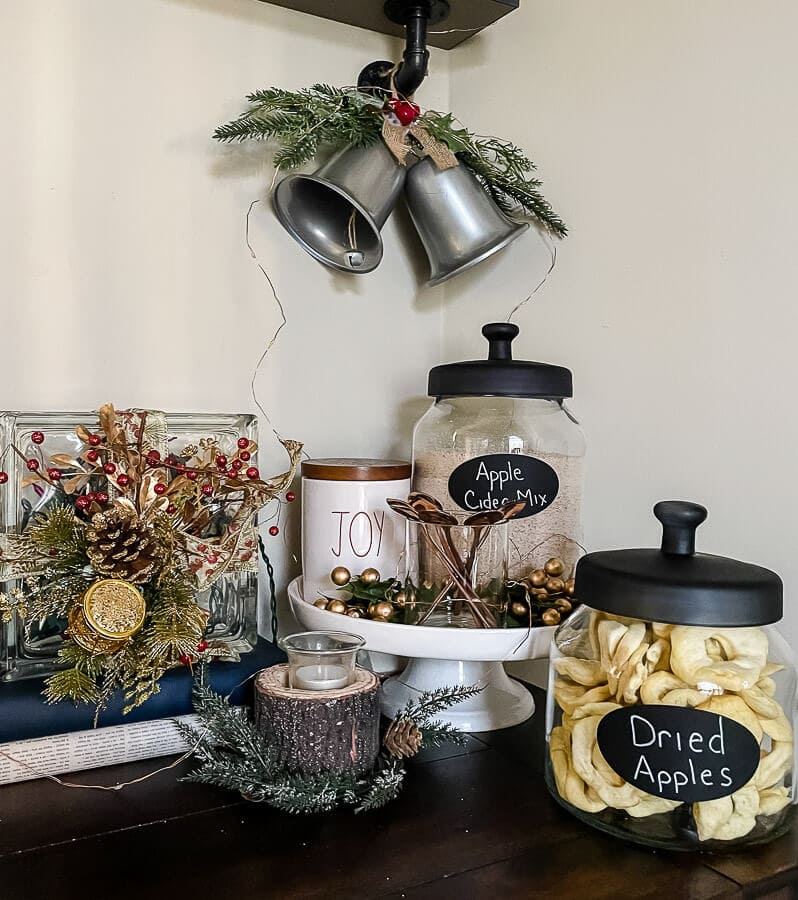 I also grabbed some dried apples from Walmart to add to the apple cider too.
This holiday glass block present is something my husband picked out at a craft show a while back.
He was sad when I didn't have it any where in the decor this year, so it had to make an appearance lol.
It does light up which is cool.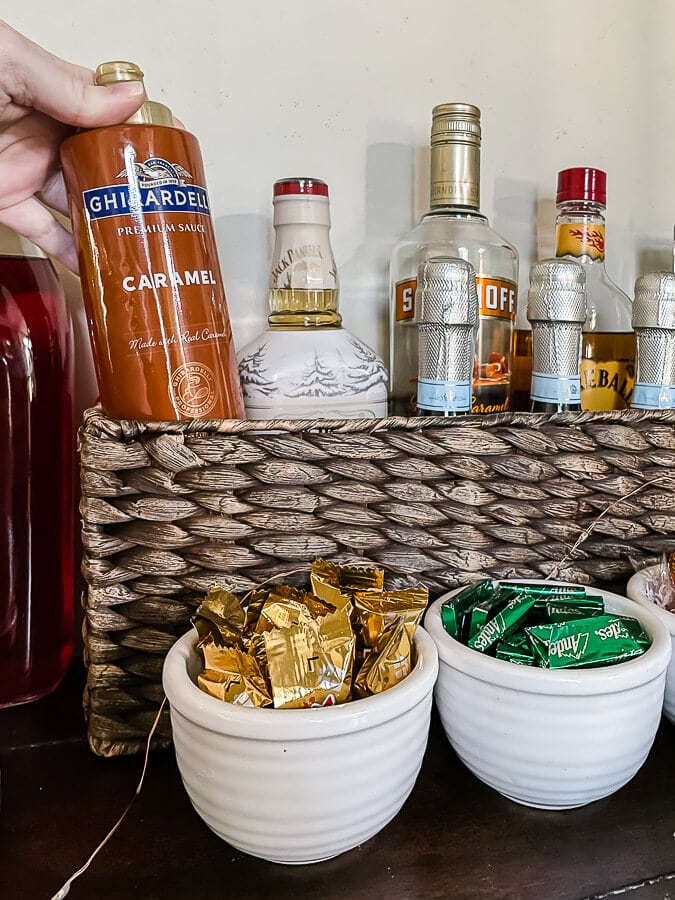 And of course, you can't forget to include some caramel sauce!
For all my sweet toothers, this is a definite must.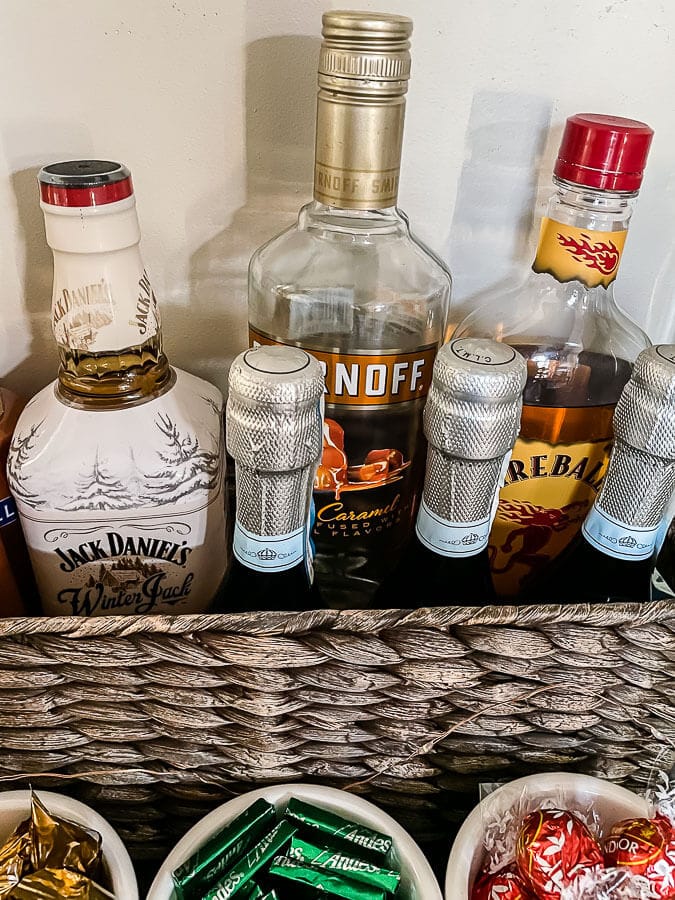 And last, but certainly not least…
All the booze I want to drink when I'm done with this pregnancy lol… just kidding, in part.
You gotta have a few spikers to make the adults happy.
I included little bottles of prosseco, fireball, some special edition winter Jack Daniels, and some caramel vodka.
I used a basket I had kicking around to pretty up the bottles, but consider adding non-booze mixers too.
I have a small thing of cranberry juice available to give it a little different taste.
Regardless of what you choose, have a few mix-ins to make the apple cider bar more fun and festive.

Add some sweet treats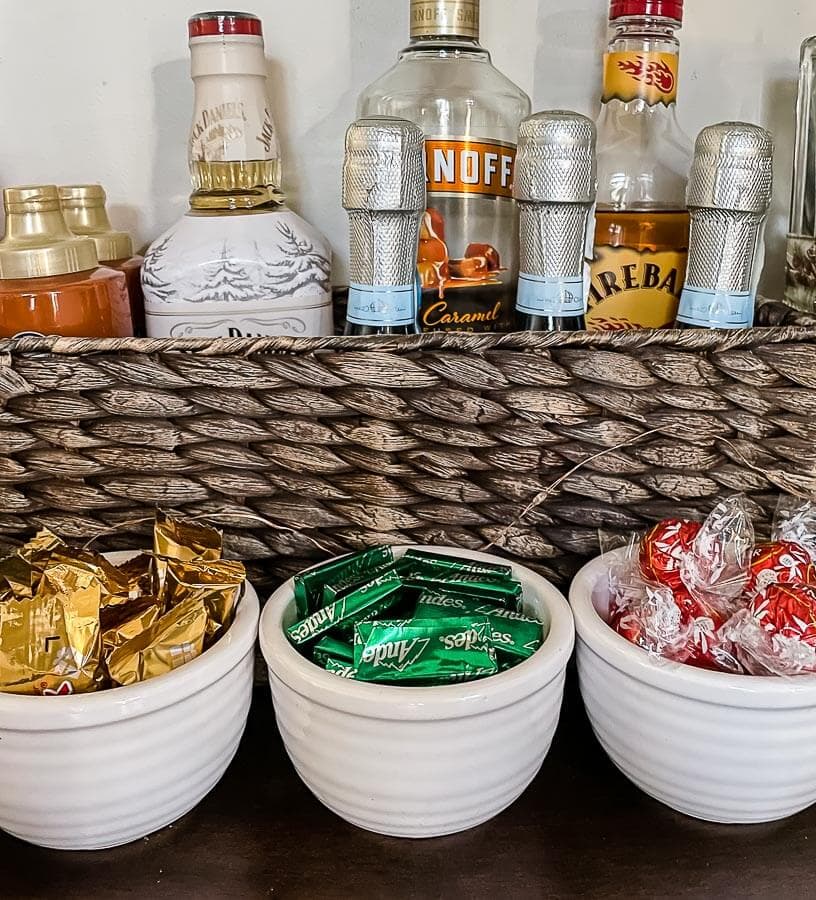 I was considering this apple cider bar both a drink station and an after dinner sweets station.
I picked a few of my favorite after dinner chocolates in festive colors and added them to the apple cider bar too.
Above I have Twix, Andes mints, and Lindor truffles.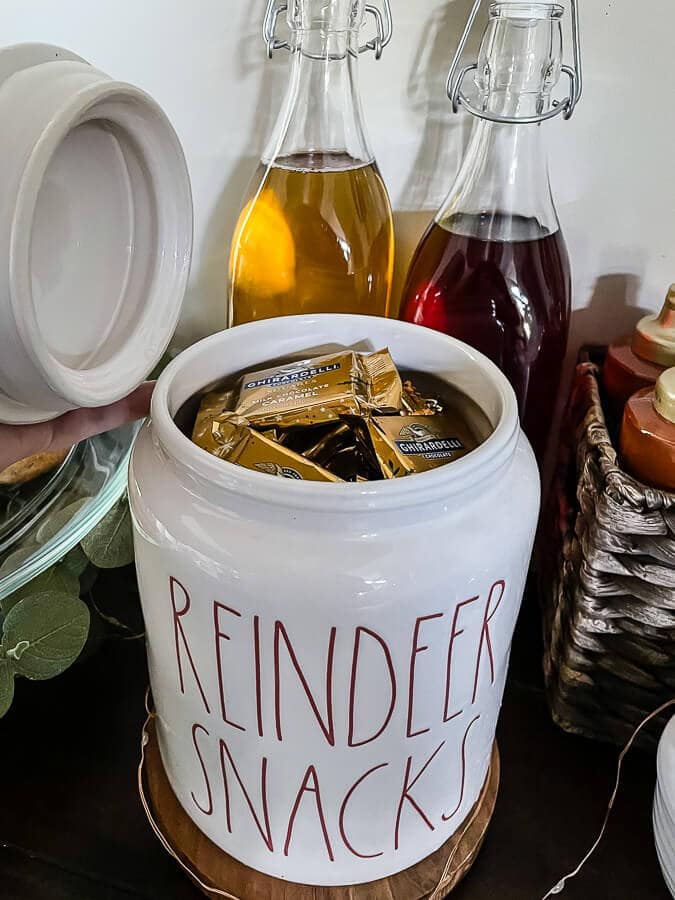 In my reindeer snacks canister, I have my favorite Ghirardelli caramel squares.
This is where I'd put the good snacks that you don't want to go too quickly.
Out of sight, out of mind, but secretly ready and waiting for whoever gets curious and/or for you lol.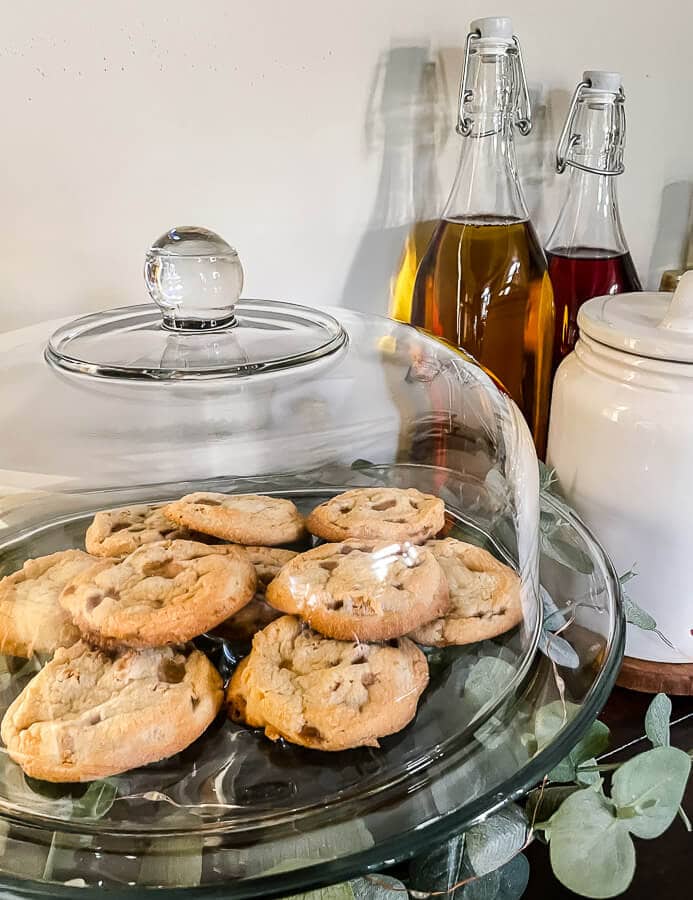 Every year we make a ton of Christmas cookies, so I also wanted a place for those to go.
On a side note, thee cookies in the picture above are the Pillsbury caramel happy break and bake cookies and Oh. My. Goodness.
If you haven't tried them yet, they are only around during the Fall/Early Christmas time, but they are sooooo good.
Jazz it up with holiday decor and lights
And you can't forget to add some lights!
These battery-powered twinkle lights come with a remote control and are literally the best lights ever.
Their wired body lets you mold them to whatever you need.
I just wrapped them around the various items in the apple cider bar that I knew wouldn't need to move to give it a more festive vibe.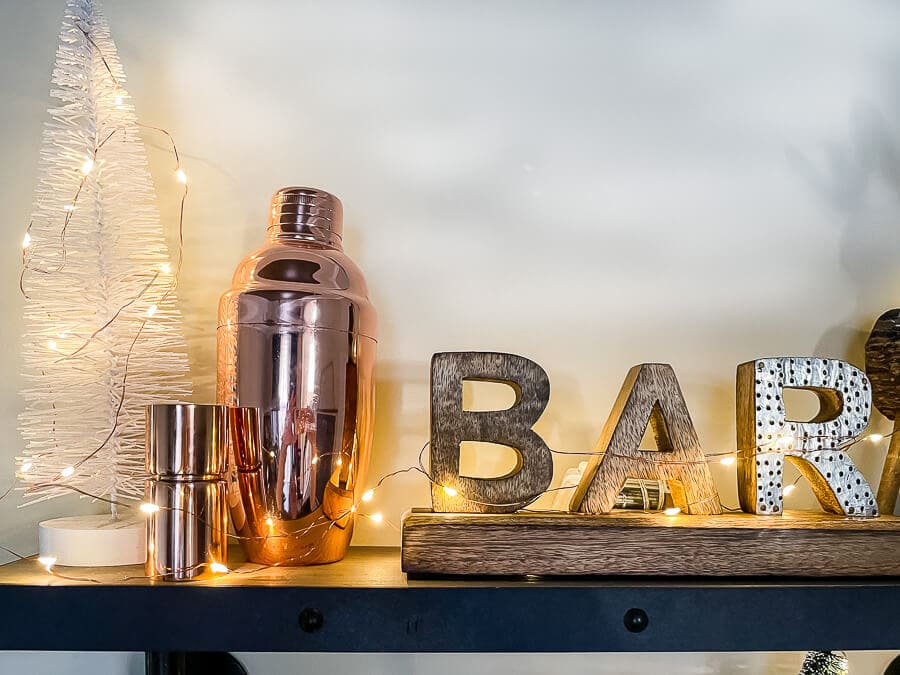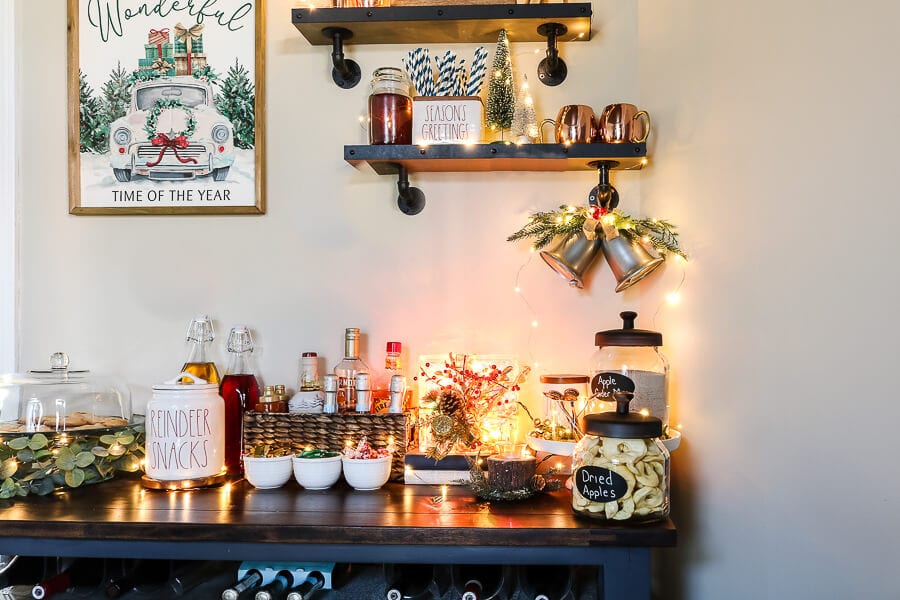 Now for the full views of the apple cider bar…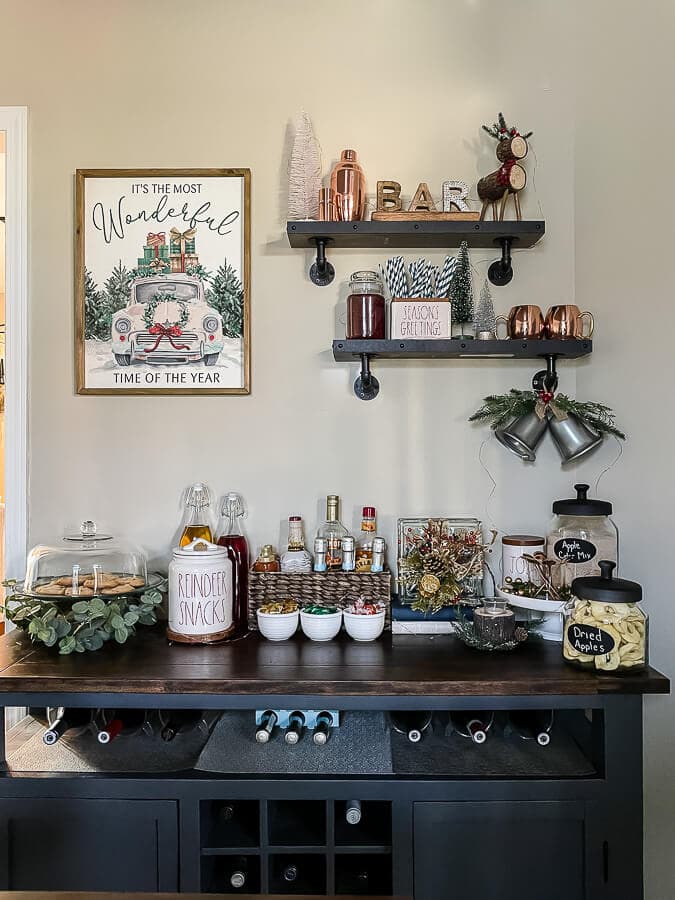 I hope you are inspired and love it as much as I do!
If you saw anything you want to include in yours, I included links to as much as I could below.
Happy holidays!
Shop my Apple Cider Bar
Disclaimer: This post does include affiliate links for your convenience. This is at NO additional cost to you but earns me a small commission. To read more, check out our disclosure policy.
(click on any of the images to shop the products)