Try one of these fun activities this Christmas to do with your family even if you are celebrating virtually!
Christmas activities to do virtually?!? Yep, you heard that right!
If you're coming from Jonathan and Jenna, wasn't their whimsical white Christmas tree so amazing? Jenna is always so creative!
And if it is your first time here, welcome to our cozy corner of the internet here!
Our last collaboration was Christmas DIY projects, but when we all decided to put together a 'Hoppin' Around the Christmas Tree' theme to join forces on, I was so excited!
Nothin' better than sharing fun ideas to make Christmas even more magical, right?!
Since the hubby and I decided to stay home for the holidays, we've been brainstorming like crazy to come up with fun ways to spruce up our holiday traditions.
Since we won't be traveling to see any of our out-of-state fam this year (basically everyone except 2), we want our time on Facebook portal (read more about how this is a must have for your virtual holidays here) to be fun and easy-going.
Here's what we came up with for Christmas activities we plan to do with our family virtually.
Disclaimer: This post does include affiliate links for your convenience. This is at NO additional cost to you but earns me a small commission. To read more, check out our disclosure policy. As an Amazon associate, I earn from qualifying purchases.
1. Covid White Elephant
I'm sure this name could be better (ha!), but it's similar to the white elephant game you would normally play in person.
In case you are unfamiliar, white elephant is when you bring a wrapped gift, either cooky or nice. You then pick a number (1 through however many presents/people are playing) and you get to choose a gift from the pile in the order (i.e. person with 1 gets to choose first, then person with 2, etc.)
Once everyone has chosen their gift, you can have a round of stealing/trading. We usually do that you can trade or steal twice before that gift is stuck with the person.
For covid white elephant, we are going to do something similar except we will have all the white elephant gifts wrapped at our house.
We will still put numbers in a hat and pick for everyone, but they will be able to view all the gift packaging from the portal and pick one.
They can ask for clues as to what it is to help them decide.
We plan to go through everyone this way, do a round of stealing/trading, and then open them up for everyone.
For what's inside the boxes, we talked about the gifts being items we then would ship to them after the fact, but we are leaning more towards the gift being a gift card or something we would do for them (i.e. order/pay for their carry out or delivery order the next time they eat out).
You could really make this anything… an action they should take, the ability to make a rule for the remainder of the portal, etc.
Here are some fun white elephant gift ideas regardless if you are hanging virtually or in-person:

(click on any of the images to shop the products)
2. Ornament Decorating Contest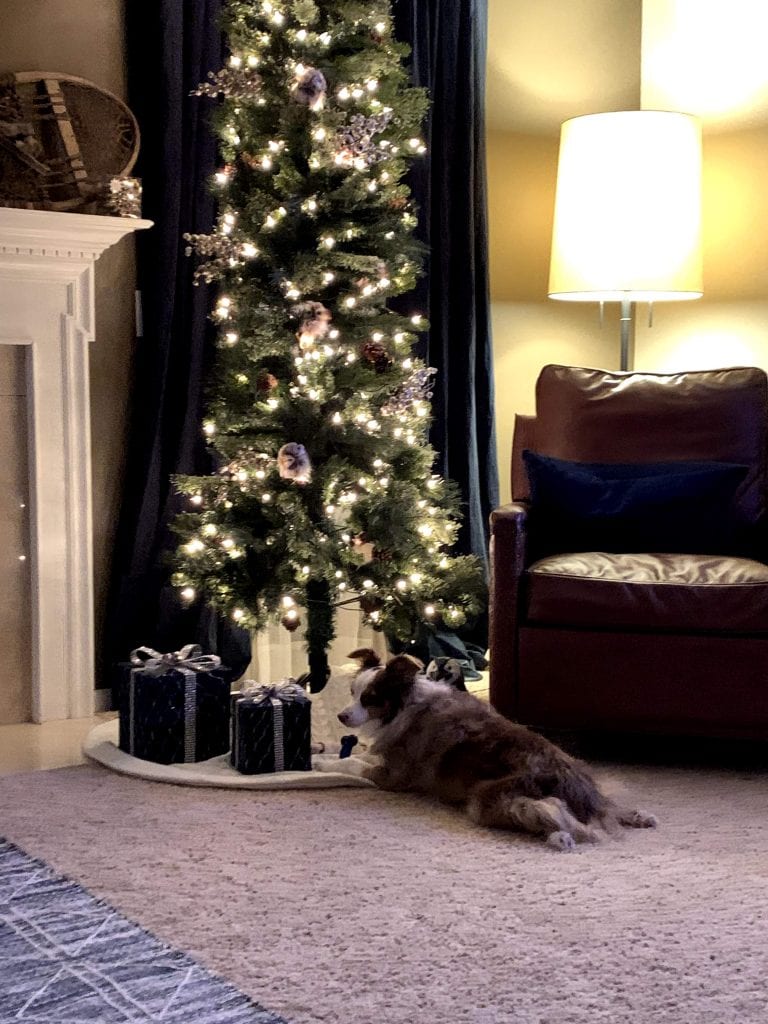 Our other idea is to have an ornament decorating contest.
We were already going to do this as a family and decorate one wood ornament and one glass ornament, but now we are planning to send blank ornaments and art supplies to each of our families and give them a date to have them done by or even complete the art project while on our portal call.
We can then have cast our votes on the winning ornament!

(click on any of the images to shop the products)
3. Themed-Tree Exhibition
I don't know about you, but I am going H.A.M. on my Christmas trees this year. Even though it is just for us, I want to fill every room with joyfulness.
Therefore, I am going to take the fam on a tour at night of the Christmas trees while we sip a warm, cozy drinks in our pajamas on our video call.
Once I've shown them all of ours, they can take us on a tour of theirs! Christmas tree's at night are the best!

(click on any of the images to shop the products)
Other Random Ideas
Some other fun ideas we are throwing around are:
"The Weakest Link" – Style Trivia

With one of us being the moderator, have trivia questions, track who gets how many right, and then vote people off – winner would get to choose who has to take a shot lol

Family Feud

Get both sides of our family together and compete!

Christmas Movie Watch Party

Drink every time they say "Christmas" or "Holiday"
This is our plan for hoppin' around the Christmas tree this year virtually!
Now you have to head over to Chica and Jo to see their modern dipped Christmas ornaments! They always come up with the best ideas for taking something average and making it amazing!
You can check out the rest of the "Hoppin' Around the Christmas Tree" blog tour below!