I'd like to think of myself as a pretty organized person, but it hasn't always been that way. Sure, when I was a kid my favorite hobby was rearranging my room and finding cooler, better ways to keep my stuff neat, but I'm just as scatter-brained as the next guy. The only things that keep me on my toes and my mind free are my digital extensions. I'm the type of person that needs to see a handwritten map of my month and week, but then needs to translate that to a digital format to have with me at all times. Because I am naturally scatter-brained, the digital component is key to my success. When I trust the systems I have in place, I no longer need to worry if I'm forgetting something. For your convenience, I have for you today 4 ways to keep your home and life organized in order to keep your "to-do's" off your mind.
1. Calendar on my phone 
Most of us probably keep some semblance of a calendar, but I'm always still surprised to hear that people don't use their digital calendar. The beauty of the digital camera for me is that I always have it with me. Once something comes up, it goes instantly into my calendar. I can't speak for any other phone, but the iPhone calendar allows you to sync calendars from outlook, email, and even due dates from my Trello account. I think at this moment, I have four calendars – my personal calendar, my shared calendar with my husband, my work calendar, and my trello workflow items with due dates.
If you don't already share your calendar with your significant other, I highly recommend it. My husband fought this for quite sometime, but finally caved after hearing how convenient it was from some friends of ours. He was constantly asking me if we had plans, but now he can just check his own calendar to see if we have anything scheduled. It creates a much more opportunity for better conversation for us for sure. Plus, being able to answer your questions about plans without having to always consult someone helps cultivate that independent mind. 
2. Reminders on my phone
For those of you who don't have an iPhone, I am not sure what the equivalent app is, but Reminders is my numero uno for housing things I need to remember at a specific time that don't necessarily require a permanent place like my calendar appointments. The way I like to use reminders is by thinking about dates and times that I will need to remember to, let's say, pick up a card for a wedding, take medicine, clean certain areas of my home on a reoccurring basis, or even to pay a specific bill that doesn't automatically debit. 
I will tell you though… it is tempting to put so much in your reminders because you can get it off your mind and written down knowing that you won't forget about it later. However, there are times when I put ideas that don't necessarily have a "due date" in a sense in my reminders and I end up rescheduling them over and over. This can get a little annoying, so I'm trying to retrain myself to take idea items and instantly add them to my Trello app. 
3. Trello
Speaking of Trello, Trello is my ultimate workflow and collection of all things I want to do in regards to my home, maintenance, calls to make, honey-do lists, weekly agenda items, client project workflows, and goals I want to reach. Using Trello in line with the Getting Things Done strategy really helped me eliminate the confusion I was feeling with the amount of ideas and projects I wanted to complete. By housing everything in different boards, I am confident that everything I want to remember when I get around to a certain subject, such as my ideas for my home office/hobby room, will be ready and waiting for me. Also, as I have more ideas or think of something that is crucial to my daily usage of such a room, I can add it immediately to that board. I am a firm believer that when it's off your mind and somewhere you trust, you can free your mind to be in the present as well as eliminating worry that you forgot something important. 
Having sleepless nights or trouble falling asleep because of all the ideas running through your head? Then, you need Trello in your life. I use to need a pen and paper near my bed to write down random ideas, but eventually I would misplace the paper or my nightstand would get really cluttered. Since my phone is always near me anyway, Trello has freed me from these issues with writing something down randomly. I highly recommend this app/desktop program so much so that I put together an entire [thrive_2step id='6081′]e-book[/thrive_2step] related to helping you organize your home project ideas. You should check it out! 
[thrive_2step id='6081′]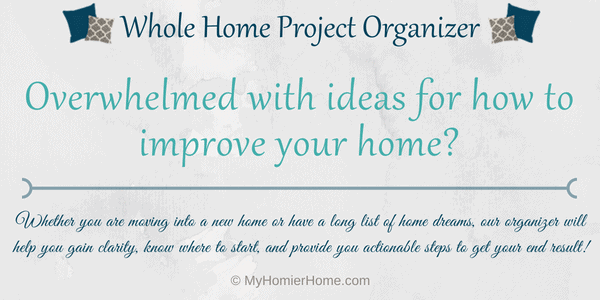 [/thrive_2step]
4. Evernote
Last, but not least, I am in love with Evernote. Evernote is actually what I'm writing the initial draft of this post. When I'm in need of a more full "piece of paper" for an idea, list, or even a recipe, I turn to Evernote. My desktop application as well as my app all sync continuously, so I'm never lost as to where my notes are. Again, I'm the kind of person who needs to write things down, but translate them to digital, but also, I'm way faster at typing than writing. When I need to get something down quickly or store something that can be easily found, Evernote is my jam. I have everything from business cards scanned in with the adjoining scanner app, dinner grocery lists, such as what to buy for taco night, items related to hosting Christmas, as well as notes from photography and Photoshop courses I have taken. If you haven't given Evernote a try, I highly recommend it to create a one stop, fluid source of all things you want to have on the go.
I will tell you that organizing my home and life to-do's with these four has totally changed the clarity I feel.
Which of these will you try first?
---
GTD and Getting Things Done are registered trademarks of the David Allen Company. We are not affiliated, associated, authorized, endorsed by or in any way officially connected to Trello, Inc. (www.trello.com) or Evernote.
---